Grace and peace to you!
This website explores God's affirming action in Jesus Christ, and how that YES in Jesus helps you and me every day.  These sermons and devotional materials, some new and some from a life-time of ministry, are offered for your use, encouragement and inspiration.  When you read and reflect please use anything you find for your own teaching.  As you are boosted, assisted or served by this ministry to Christian pastors and layleaders please do donate financially through the PayPal link on this site.  Half of what you give directly supports the student feeding program this pastor sponsors:  Backpack Buddies feeds two hundred students in three public schools in the Tigard/Tualatin School District - Metro Portland, OR by sending a weekend supplement of nutritious and practical food home with each student.  
The LORD reigns!  Let the earth rejoice!
August 2016
Asking for What We Need
     Ask, and you will receive; seek, and you will find; knock, and the door will be opened.  For everyone who asks receives, she who seeks finds, and to him who knocks, the door will be opened.  
     Is there one among you who will offer their son a stone when they ask for bread, or a snake when a daughter asks for a fish?  If you, then, bad as you are, know how to give your children what is good for them, how much more will your Creator give good things to those who ask?
Matthew 7: 7-11
As he entered the park on August 6, 1902, Cleveland manager Bill Armour confessed to a ticket-taker that he had no idea who his starting pitcher would be.  The ticket-taker told him that Charlie Smith, a good local amateur had bought a ticket and was in the park.  Armor found Smith, whom he did not know, got him a uniform, and sent him to the mound against Hall of Fame pitcher Rube Waddell.  
Smith won the game 5 to 4 and pitched in the majors for ten years.
What a strange question to ask: Where is Smith? Or can you show me where Charlie Smith is sitting?! But the manager asked and got an answer which was most helpful.  
Jesus teaches that we should ask God for what we need. So often we don't even bother.
First, we should ask God for help in supplying our needs because we're invited to.  God won't be tired out by our asking.  There is no limit to what God will receive from us because it is God who loves us without limit.  Almost every night in my childhood I would come in from playing with friends around five o'clock, enter the kitchen and ask my mom, "What's for supper?" Sometimes the meal was a salad and some bread and butter. Sometimes she would describe how the pork chops were cooked along with mashed potatoes and vegetables!  Then she would hug me.  She always had an answer based in part on her devotion and love for me.  So much more is it with our Creator who love you and me.
Second, we should ask God to help us in our need because that is, presumably, one sentence in an ongoing conversation.  Our prayer life is composed of praising God in worship, thanking God with a loving heart, confessing to God our sins, and asking God for answers on behalf of others ALONG WITH asking our Creator for answers to the perplexing questions of our lives. It is normal to ask God for help in our times of need because we normally reflect with God many times a day, on various concerns.  Jesus here is speaking to many people:  poor and rich, faithful and disinterested, young and old.  Some people will ask and receive exactly what they ask for.  Others will ask God for something and receive something that is unlike their own vision of the solution.  Jesus wants people to join the conversation with God and knows that to pray is to change.  When we enter a conversation with God, our minds and hearts will be opened in ways we may not have imagined.  Nonetheless, we will be answered by a God who knows how to take care of God's children.   
There are many questions we might ask of God: 
What pitcher should start the next game?
Can I get this job?
How will I feed my children next month?
Can I be healed?
What is the direction I should take on a particular question in my life?
Can there be justice in my community on a particular issue?
God invites us to ask, seek and knock; to start a conversation, reflect with the Creator and receive a word of hope.
May 2016
Opening Up the Unknown
"But how are they to call on one in whom they have not believed? And how are they to believe in one of whom they have never heard? And how are they to hear without someone to proclaim him?"  
Romans 10: 14
Until about 1910, the concept of a "no-hitter" did not exist.  More than 50 no-hitters had been thrown in major league history before sportswriters decided to pay any particular attention to them.
The Apostle Paul breaks the same news to the Roman Christians who are not totally "sold" on welcoming non-believers into their churches.  Paul tells the Christians that people outside the community of Jesus will never hear about the Carpenter of Galilee in any other way unless or until they tell the story of Jesus' love to outsiders and invite them into the fellowship!  
Preaching is a formalized act in the context of worship where the story of Jesus was and still is told and sometimes explained.  Preaching, however, on its basic level, is for everyone everywhere who wants to share the good news of Jesus Christ.  How we act or speak publicly; when we invite another to worship or to serve with us; when we pray with another; when we give to someone in need: these are some simple ways of modeling the gospel.  Like the first no-hitters, no one might appreciate Jesus until you and I 'point him out' to others. 
Share a word of Jesus' influence upon you, today.
Ash Wednesday 2016
God's Reminders
"Remember that you are dust, and to dust you shall return."
As I walked across the dimly lit parking lot this morning I saw the form of a colleague I know.  She was unusually bowed down.  I spoke a cheery word of greeting to her and she replied, "I have to show you some pictures.  A guy almost killed me yesterday!"  With that she showed me pictures of her smashed car which she took from the ambulance that took her to the local hospital for observation.  She confided "I've got to work today but my shoulder is killing me!"
During a break in my morning driving I heard a driver describe to others about "having" cancer and what that meant.  In the moment I had to listen, she was describing her fear of the unknown outcomes of the disease itself and the treatment.
Later in the Ash Wednesday morning, as a red dawn rose against billowy clouds, a man who hangs around the transit center showed me a picture he had of himself as a POW during the Vietnam War.   The skeletal figure was sitting on a concrete floor, irons clasped around his ankles, knees raised up around his chin, and his hands (also cuffed) around his legs.  He described the experience as "hell."
A regular rider, a young man in a wheelchair, shared with me some details of his up-coming business trip.  He is a buyer in a particular industry.  He described the difficulties of trying to do business honestly when some in the same "market" use corrupt practices to procure contracts.  He rolled his eyes and said with a tired emphasis, "Some people will never learn that there is a right way to do things."
By the end of the morning I smiled to myself as I prayed, "OK, God, you've made your point!"
The point of Ash Wednesday is to remind us that we are quite vulnerable in all of our lives and in need of God's grace and mercy.   We forget that about ourselves and about one another.  Lent, beginning today, is a time to remember that we are formed from dust and to dust we will return.  Our health, wealth, wisdom and skills are illusions of permanence.  What we "have" can all change in a minute, in the time it takes two cars to collide, in the years it takes for warring nations to negotiate the release of captives.  Like Shakespeare's Macbeth, Ash Wednesday is a cautionary tale, not about avoiding the killing of kings, but a reminder not to ignore the King of kings, Jesus.
Lent is a time not just to do without something but to take on something spiritually positive.  It begins with Jesus' words, "Blessed are the poor in spirit, for theirs is the kingdom of heaven;" or Blessed are those who know their need for God; their search shall be rewarded.   
Is there more than worry, fear and suffering in this life?  As you and I travel with Jesus to the cross, we will find the gift of life Jesus intends for each of us.  Jesus puts it simply as, "Come, follow me."
Christmas Eve 2015
The Heart of Christmas
"Glory to God in the highest, and on earth peace among men and women with whom God is pleased." Luke 2: 14
In recent days I've heard these things as I prepared for Christmas:
A man in a hospital bed, after myriad tests and doctors' exams, still doesn't know why he has no energy to live and work as he has for years.  He responds to my question, May I pray with you? with a barely audible Yes!
A woman, bitterness in her voice, tells me on the bus how she doesn't like Christmas at all but tolerates it for children because they at least get some toys out of the deal!  She goes on to reveal how she hates almost all holidays because they reflect some aspect of her own life that she has lost - love relationships, primarily.
A family member lost his job recently.
Six weeks ago a cousin lost her teenage daughter in an auto accident.
A friend emails me with the news that he was just hospitalized with blood clots and now is permanently on a blood thinning medicine.  This is the same condition that "took" his brother a few years ago. 
Another close friend texts me that his most recent health exam shows he is cancer free; but he worries that he still faces an unknown future, writing:  Interesting how I will now live my life six months at a time.
As I pondered these things in my heart I wondered what the meaning of Christmas was in light of these worries and potential catastrophes that easily strip away the tinsel and trees, chocolates and wassail, gift-wrapped boxes and trips, songs and candles and poinsettias.  What is the point of Christmas? What would I say to these people (and many more) who are faced with very real issues that will challenge them long after the wreaths and lights are boxed up?
The message of the angels to the shepherds came to mind, printed above.  Glory to God in the highest, and on earth peace to men and women….
In the midst of a world that was oppressed by a totalitarian Caesar, and lacked the modern assurances of medicines, abundant food and orderly avenues of travel, our Creator came into the world as an infant, named Jesus (strength).  That birth was a sign to us that God was not only with us in the midst of hardship, but that out of God's love for us, God offered us a peace or a wholeness in the midst of that which would tear us up.  Peace means that God's purpose for our physical, emotional and spiritual being is integrated into one life.  No matter what is happening, God helps you and me to be the kind of person who gets it; who knows there is plenty to worry about but eventually leaves the worry up to God so that we might constructively live and work and have our being in the One we can trust:  Jesus Christ.
For the one who is sick, Christmas is about finding a way to live through it all from the Great Physician. 
For the dying, Christmas is a renewal of hope for eternal life, forgiveness of our sins, AND an assurance that we did not live for nothing.
For the unemployed Christmas is about strength to start looking for a job and not lose heart, as well as an endorsement of our very being - we are much more than unemployed.
For those who worry about the future, Christmas is the peace that passes all understanding, keeping our hearts and minds in the love and knowledge of God with us.
For those who are lost (and that would include all of us at one time or another) Christmas is the light shinning through an open door of welcome, and the realization that God wants us to pray, and join in an ongoing conversation about what life and love are about.
To those who mourn Christmas can be a time of quiet praise to and thanksgiving for a God who loves us anyway - regardless of the hole that death has cut into us.
Christmas is not an automatic bromide to every problem.  The Christ child (God with us) does remind us that we are not alone; Jesus, you and I will hold together in facing the "slings and arrows of outrageous fortune."  Count on it!
I answered my friend who texted me about his worries in this way:  You'l live the next six months as creatively and generously as the last six!  Keep up the great work of your faithfulness!  Or I could have just quoted a beloved Christmas hymn:  The hopes and fears of all the years are met in thee tonight.  Phillips Brooks wasn't just writing about the town of Bethlehem but the baby that was born there - Jesus, our Hope and Salvation.  Merry Christmas!
October 2015
Strictly Personal
"When you assume the posture of prayer, remember that it's not all asking.  If you have anything against someone, forgive - only then will your heavenly Father be inclined to also wipe your slate clean of sins."  Mark 11: 25 (The Message)
"The moral arc of the universe is long, but it bends toward justice."  Dr. Martin Luther King, Jr.
In October I returned to a church where I had served to participate in their 75th anniversary celebration.  It was a happy time of looking back in thanks and praise to God for the life and work of the church!  When I was senior pastor there I led the congregation in moving, building a new campus and, most importantly, revitalizing the spiritual life and outreach of the church.  Also, unbeknownst to me when I served there, had participated in the on-going history of "running off" its pastors, dating back to 1959!  
I wanted to return and celebrate our common history of success for the Lord!  I wanted to return and see some people who had been very good to me and thank them (once again) for their kindness, leadership and faith so generously given.  I wanted to go to the event, hold my head high, and demonstrate the power of Jesus' words on forgiveness (above):  When you assume the posture of prayer, remember….If you have anything against someone, forgive…."
It's taken me a while but I had decided to forgive the antagonists involved - the false accusations,  the verbal attacks on my family, the professional embarrassment trumped up against me, the destruction of my family and first marriage, the sleep lost over the course of two years - forgiven; let go!  I wanted to return to this congregation and test, and demonstrate to myself and others, that I had forgiven the sins against me.  
Here are some of my experiences at that celebration:
I saw a sandy-haired young man, with his 15-month-old son, who had been a student in the youth fellowship when I was pastor.  He is now a presbyterian pastor himself in a congregation in north Texas.  This young man was filled with hope, love, energy for the Lord's work, and enthusiasm for God's people.  I was uplifted to see him and catch up a bit on who he was and what he was doing!
I greeted one antagonist upon entering the church.  He sneered and coldly said, "Hello", and walked by me.  I smiled, called him by name and said, "Good to see you!"
Over that weekend I stayed with a husband and wife who were and are dear friends.  They had left the church after the pastor after me had also been run off.  They enjoyed the events of the weekend, as well as providing fabulous hospitality to me during the weekend.  They commented that through the events of the celebration weekend they had found a measure of healing.
At the Sunday morning breakfast I visited at length with an old friend who has been stricken with an auto-immune disease.  He told me how he was "gonna' keep on living!"  He shared with me his future travel plans and his vision for continued work for the Lord.
During worship we passed the peace.  I walked over to the choir loft and offered my hand, smiling broadly and sincerely to a man who had been quite obnoxious to me during my tenure as pastor.  He refused to call my name, take my hand or look me in the eye, but called me "brother" as he said hello.
I spoke with a woman who I had collaborated and prayed with concerning her (then) good but suicidal son.  We hugged and I immediately asked her a) how she was and then b) how her son was?  She had much positive to share saying that her son was now thirty years old, happily married and well into his career!  Praise the Lord for the seeds, sown in hope, that yield good news.
I hugged the chairman of the committee that had called me to service at the church.  He and his wife had moved but when we saw each other we embraced, called each other by name, and spent a good deal of time catching up!  He and his wife are actively starting a new church in California and enjoying the retirement they worked hard to build over years.
I chatted with "the pillars" of the congregation- a man and wife who give a ton of money to the congregation with no strings of influence attached, and who work hard in various ministries of the congregation.  They were always affirming, and said that weekend, "We remember your sermons, given from memory and shared with encouragement!  Thank you!"    
One of the co-chairwomen of the event had been an 8th grader when I moved away from the congregation.  She had grown into the several roles that young people may aspire to:  motherhood, professional achievement, involvement in ministry.  As we shared information about our lives, she said to me, "I'm very glad you're here.  Thank you for coming!"   
I hugged and spoke at length to a woman who had lost a daughter during "my time" at the church.  I had stood with her as a nurse pulled back the sheet from her daughter's still, pale face at the morgue; putting my arm around her as she vocalized in her alto voice a sob the depths of which no sorrow could express.  She looked great and said, among other things, I'm thriving, not just surviving!"  She was and is a great woman of faith.
Prior to entering worship, the woman who had helped to organize and promote a set of lies against me approached me, somber-faced.  She apologized to me for her "mistake" and spoke of her hope for Christian love to take the place of what was enmity between us.  I was surprised by this encounter.  I never thought it would ever happen - especially this way! Nonetheless I was also glad for it as I had worked hard to forgive this person in my heart.  I found that God had prepared me for this test and I was able to quietly but sincerely thank her for for her words, accept her apology and to wish her well.
I saw a man and wife who have been hurt by antagonists in that congregation who are nonetheless active in ministry and live their faith in dynamic and hopeful ways.  They are super people who inspire me.
I saw and was insulted by another couple who were as petty and hateful in 2015 as they were in the year 2000.
I'm grateful to a God who forgives me for my many sins, and helps me to forgive others who sin against me.  It takes time and great spiritual effort to forgive someone who has hurt me.  But when I do forgive at least three things happen (and happened that weekend!)
I'm freed of the negativity other negative people laid upon me.  I'm healed of those hurts, and I don't feel bad any more!

I'm obedient to my Lord.  If I'm a Christian, I will obey Jesus who asked me to forgive others.  It takes time, but that is the point of faith, isn't it:  obedience?  Trust and obey, for there's no other way to be happy in Jesus!

Finally, in forgiveness we give up fighting and receive peace - wholeness!  I'm surprised by the number of people who were still fighting against me after nearly TWENTY years!  I'm glad Jesus has helped me to stop.  Sometimes of course, there are fights that should be carried on against some evil or injustice.  Most conflicts we experience, however, do not rise to the level of a national oppression or universal moral issue.  So take a deep breath, let go, and be at peace with those who are near and far away.
Prayer:  Dear God, thank you for Jesus' death upon a cross as forgiveness for our sins - AND for Jesus' resurrection and reconciliation in the face of the death that sin brings on each of us!  Thank you also for your love that causes us to think things over and enables us to let it all go - the guilt, the hurt, the anger, the need for revenge, the regrets - all gone!  Thank you for Jesus' victory on our behalf, your Son and our Savior.  Amen!
May 2015
On Having Patience in All things  OR  It's Not Your Turn.
For still the vision awaits its time; it hastens to the end--it will not lie. If it seem slow, wait for it; it will surely come, it will not delay. Behold, he whose soul is not upright in him shall fail, but the righteous shall live by his faith.
Habakkuk 2: 3-4
For surely I know the plans I have for you, say the LORD, plans for your welfare and not for harm, to give you and future with hope. Jeremiah 29: 11
So let us not grow weary in doing what is right, for we will reap at harvest time, if we do not lose heart.  Galatians 6: 9
It is one of the most difficult lessons to teach a child.  It is one of the most difficult lessons for an adult to remember:  Wait your turn; your turn is soon to come.
The notion of having "my" turn all the time is a natural one.  One day, in kindergarten, I wanted to use the paint set where a square paper hung upon a light-brown, wooden easel.  Nestled into that easel were small jars of blue, green, red, yellow and orange tempera paints.  To work at the "station" one first had to put on a brightly blue-stripped smock and then pick up the thick, wooden-handled paint brush, and supply color to canvas!  I enjoyed the experience, and still have my first masterwork:  The Atomic Bomb (a green mushroom cloud)  Hmmm?!  (I am a child of the early 1960's!) 
I walked over to the easel and found another student busily brushing her self-portrait.  Impatiently, I took my brush, dipped it into the red paint and made a checkmark on her paper - signifying in my mind - that her picture was "finished," and that I could begin my time painting!  Eventually the teacher made her way over, sized up the situation and bent down to my face.  Mrs. Mento said in a polite but firm tone, "It's not your turn! You must wait for your turn with the paint set!"
Whether it's running a stop sign, butting into a line of cars, interrupting someone's sentence or jumping a long queue of people at a store, we show off not only our high rudeness quotient, but our spiritually stunted growth as we push ahead of others.  How do we master the anxiety (and sinfulness?) that cause us to scheme so? 
First, realize that a "long line" or other obstacle that causes us to wait is an opportunity, not a death sentence.  It's not your turn just now; what is it that I might turn to do or think about while I wait?  What are you about?  What inspires or relaxes you?  The answer to that question, expressed in tangible activity, should be at our fingertips.  The answer will help calm you and to pass the time of waiting.
Sen. John McCain, a former POW during the Vietnam War, tells of how he and other prisoners formed a "school" where, being together, one person would "teach" everything they knew or could remember about some topic they learned in school or through life's experiences.  The other POW's listened and learned/remembered what was shared.  In this way the months and years of their imprisonment passed a bit more easily.  Waiting is always difficult and cannot always be avoided.  What will you do with your time while you wait.  Waiting may be a gift God intends for your growth in some way other than your present goal of "getting through."
Second, take a deep breath.  Taking a deep breath means, literally, to pray about your line and the wait.  When we take the time to pray to God for an insight or answer, we open ourselves up to dropping anxiety and picking up the answer.  
I was standing in a short but slow line at Voodoo Doughnuts in downtown Portland one evening.  A man in his 30's began to cut in front of me.  When I politely challenged him, he said he was going to the rest room.  Of course, he then moved away from me and up to the window to order his food ahead of others who had been waiting.  I wanted to punch him but decided to take a deep breath and let it go.  As I did so I saw the man in a new and realistically pathetic light.  I did not need to stoop to his level of behavior.  When I did order, pay and leave "Voodoo" I saw the same man sitting alone in his rolling hulk of a taxi.  It was then I realized I was eating doughnuts as a snack, he was eating "Voodoo" as a meal.  I was glad to have had the sense to speak to God first about my disappointment before acting.  The spirit of Jesus had helped me remain calm and focused on the real mission:    waiting on my turn to move forward.
Jeremiah reminds us that God has plans for each of us and knows them.  Waiting for the plan to materialize is never easy but the advice of the apostle Paul is helpful in this case.  "...We shall reap, if we do not lose heart."  Not giving up takes practice, but there are some long lines to stand in as we wait for our turn.  As we practice being patient and not rude, hopeful and not cynical, joyful instead of pessimistic, we feed our endurance for waiting and then moving forward with the life Christ Jesus calls us to.  Try it the next time you're in line.
Lent 2015 - March 25
Jesus Cleanses the Temple
...And Jesus would not allow anyone to carry anything through the temple. He was teaching and saying, "Is it not written, "My house shall be called a house of prayer for all the nations'? But you have made it a den of robbers." And when the chief priests and the scribes heard it, they kept looking for a way to kill him; for they were afraid of him, because the whole crowd was spellbound by his teaching.  Mark 11: 16-18
I remember my brother, Butch, and I coming home from Sunday School and church  asking my parents to watch our re-enactment of that day's Bible lesson.  (We had read about Jesus' cleansing of the temple.)  To set the scene I sat on the sofa and piled some coins in front of me on the coffee table.  Then Butch came into the room, slapped the coins away and kicked over the coffee table!  That's when my dad said, "Stop it!" and my mother squeaked, "What are you doing?!"
I'm sure my parents' reaction had parallels in Jesus' day.  What was Jesus doing?
Jesus enters the temple and "cleanses" it by running off every animal and money changer in the place!  It wasn't that he was against bake sales or youth group fund-raisers, or building programs.  Jesus saw that the (crooked) changing of pilgrims' money into temple coins, and the monopolistic selling (at inflated prices) of animals for sacrifice was an (ultimately) exclusionary spiritual exercise.  The cost of worship blocked many people from entering and participating.  
Jesus valued those people, too poor to enter, over the profit motive of the temple leadership.  His vision of what a temple should be is one where every person, regardless of who they were, was welcome to worship God; welcome to join the crowd!  Jesus raised Isaiah's universal vision of inclusion when he said, "...My house shall be called a house of prayer for all the nations." (Isaiah 56: 7)  If Jesus were a church growth guru we might hear him at this moment say something like, "Isn't the goal of the church more than raising money for the budget?"  Isn't it?
Of course, much is made of Jesus' anger or forcefulness during this action.  Truth be told, this cleansing probably got him killed immediately, as some scholars believe.  Regardless of the details of Jesus' last week in Jerusalem he poses at least one question for us in this episode:  Where is God moving and acting?  If not in the temple, where?
Of course, you and I believe that God is acting and moving in the gatherings we call the church (or any house of worship in any tradition, for that matter).  You and I look for God's movement in hearts and minds; in hands and feet; in acts of love and forgiveness and healing and joy in the gatherings of worshippers.  Jesus taught that God moves everywhere - it is up to believers to follow and obey that creative impulse whenever and wherever it leads us.
Vincent van Gogh followed and lived that creative impulse of God in Jesus Christ.  Born into a formally religious family, (his father and an uncle were ministers in the Reformed tradition in the Netherlands) Vincent tried to follow in their formal/professional footsteps by attending seminary and failing that, participating in what would be called today "field work" in ministry to coal miners and their families in the mining district of Borinage, Belgium from January of 1882 through March of 1883.  
Vincent literally gave everything he had to this ministry:  helping the men and women of the area to organize themselves for mutual economic, spiritual and social support.  He ran a food relief ministry, for example, out of his own small stipend, giving everything he had to others as a sign of his commitment to the mendicant Christ while he often went hungry.  
Eventually he was dismissed from this forward looking spiritual community building, and was committed for a time by his father to an a mental institution in metropolitan Antwerp, Belgium (Geel).
Disappointed by this formal rejection from officially sanctioned mission work, Vincent never rejected his faith in God.  Van Gogh continued to look for signs of God's presence and love in the world around him and began to express that recognition of God's movement through his painting.  He considered his life at that point (the last nine years) to be a pilgrimage of service to the people he met so that he might honor Jesus.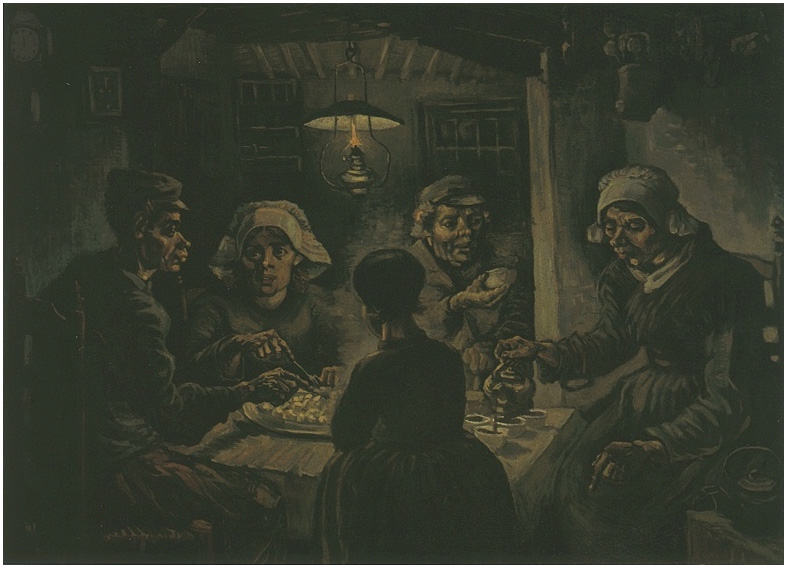 One expression of this faith in the God who moves toward all of us was in The Starry Night.  Specifically, Vincent believed that the divine impulse for good is immanent in all humans as a reflection of God's indwelling Spirit.  This manifests itself in love.  He would "see" that indwelling and describe it in the simplest and most mundane of life's experiences such as his first masterwork, The Potato Eaters, where working people who were usually seen as subhuman are here pictured/recognized in a light of God's love and acceptance!
In The Starry Night Vincent expresses several ideas:
an intense blue sky as a symbol of the divine and infinite presence.
a prominent olive tree reminds us of the presence of Jesus Christ.
the heavy brush strokes of swirling sky and plant life is the movement of the Creator in the life of the world - God's plan for life and care for all of us.
The lights in the sky and of the village are the hopes, loves and joys we live and celebrate.
The darkened church and steeple indicates Vincent's doubt about the institutional church being in touch with God's movement or joyfully participating in that movement.
Much more could be written about van Gogh's faith as expressed in his art but at this point he leaves us with the same question that Jesus did in his cleansing of the temple in Jerusalem:  Where is God moving and acting?  Are you ready to move and act with God in love?  
Or put another way, are the lights on or off in the temple of your heart?
Ash Wednesday - February 18, 2015
On Taking Turns
The human mind may devise many plans, but it is the purpose of the LORD that will be established.  Proverbs 19: 21
Whoever gives to the poor will lack nothing, but one who turns a blind eye will get many a curse. 
Proverbs 28: 27
Metropolitan Portland (Oregon) is not a giant city but does have its share of traffic congestion.  Monday through Friday each week I drive through one of Portland's problematic intersections:  6th Avenue and Broadway.  Although the intersection serves several needs (merging and emerging traffic from a highway as well as east-west and north-south traffic flow) the time-honored white directional lines governing traffic and the light itself cannot prevent long delays at the intersection.  The reason is simple:  people run the light and change lanes illegally to shorten their wait in line.  Invariably, when "my light" is green, traffic from Broadway is still trying to force through the intersection.  Prudently, 6th Avenue drivers wait until the intersection is clear before moving forward through the same intersection.  This waiting to clear before going reduces the number of vehicles that would normally travel through each light cycle.  Hence a pile up of frustrated drivers on 6th Avenue playing chicken with their cars and trucks.
I find myself silently saying to Broadway drivers, "Wait your turn!"
Wait your turn:  It's a cooperative ideal that is challenged by humans every day.
Admittedly there are a few people who have never learned the concept of waiting for one's turn in line.  Discounting those, most of us subscribe to this idea, learned from parents,  teachers, brothers and sisters!  Without this rule, much of society would be a chaotic war from checkout lines to movie queues, stop signs to elevator entrances and even emergency vehicle sirens.  Pets can be trained to wait; so we know that it is possible for life men and women to share time and space; even in anxious times of crowds, noise and hurry.  
And there's the rub, isn't it?  The proverbs identify the challenge by our anxiety to abandon what we know and believe:  Whoever gives to the poor will lack nothing....  The idea being that the threat of want should not extinguish our generous natures.  Putting someone else first does not irrevocably doom us to last place in any race of the races of our mind.  We will achieve our goals just the same even when we defer to someone else and wait our turn.
Situations of injustice (or of safety) that Martin Luther King, Jr. addressed in his 1963 book, "Why We Can't Wait" aside, it seems that waiting our turn gives us the opportunity to deal with our anxiety.   
When we find ourselves locked into an intense situation with traffic or some other crowd, we have the time to consider the proverb:  The human mind devises many plans but the purpose of the LORD will be established.  
What is the purpose of the LORD?  
First, the Lord's purpose is for us to breath deeply.  In doing this we literally relax and reset our hearts and minds.  When Jesus says to his disciples in the upper room, "Set your troubled hearts at rest." He is saying in part, take a deep breath!  That breath not only helps lower our blood pressure but also can be a form of prayer.  As we breath in the Holy Spirit and and breath out tension or negative thoughts, we are inviting the Creator directly into our mind and heart to encourage us in an anxious time.  
Second, as we (through breathing and prayer) re-establish our connection to that presence of peace we are open to hearing God speak.  One way this happens is through a simple prayer that many pray in my church:  
God,  Where will your Spirit lead today?  Help me to be fully awake and ready to respond. 
Grant me courage to risk something new, and become a blessing of your love and peace.  Amen.
As I have prayed this prayer God has opened my eyes and heart to what God needs to be done in the busiest of rush hours.
There is a young man who has ridden my bus for the past year.  My guess is that he is affected by some form of autism.  Let's call him call him Lee.  Each time Lee boards the bus he is literally coached in every detail by a pedagogue.  She follows him and has told him what to do each step of the way - wait for the doors of the bus to open; greet the driver but don't spend too much time chatting; show the driver your pass; turn and walk down the aisle; count 7 seats and take that seat in your hand and sit; watch for the stop at 185th; ring the bell; say good-bye to the driver and get off the bus.  
What I noticed in this routine was that Lee was thrown off by my moving the bus too soon.  He always looses his balance.  So I wait for him to slowly go through his progression of moves while time rushes by and the schedule falls by the wayside.
At first, seeing Lee standing at his stop in his red, winter parka frustrated me.  Picking him up represented an automatic loss of time that was difficult to make up.  But then, God spoke to me and I took a deep breath.  I began to wait my turn to move the bus only after Lee was fully seated.  It dawned on me that Lee had spent a life-time waiting his turn for this moment:  to ride a bus on his own.  God wanted me to help him, in this busiest of times, through being patient with him and waiting my turn.
Lee rides the bus on his own now with confidence.  I thank God for Lee and his growth, and for my growth, too, in waiting my turn. 
14 November 2014
Observations from a Bus
Operating a bus can be rote business:  same route, same people, the clank of the handle to open, the swish of the doors to close one hundred times in an afternoon.  I'm tempted to greet the static part of each day with a similar lack of expectation.
Recently, on Harold Avenue, I passed a vacant lot.  It was overgrown with the usual junk trees; some pencil-point-like stumps as if gnawed by beavers.  Clumps of high grass and mud puddles formed a haphazard checkerboard around the lot.  Dumped in the back of the property was a foam-green, tri-hull motor boat.  It was moored in a sea of weeds and tall grass.  The craft listed to the starboard side, no motor, windows cracked, red seats faded, and a radio antenna sticking up from the bow.  All it lacked was that Gilligan's Island, "USS Minnow" name, and gash in the side.
As I whizzed by on my bus I wondered why a craft with seemingly more life left had been dumped so far from its proper home?  It looked like the boat could float and ride the waves given some care and a new motor.  The radio antenna suggested that one could still travel across choppy waters while sending and receiving messages.
Psalm 139 answers some of my speculation about the boat, and about our own lack, periodically, of being adrift far from the dock of home and purpose.
You know when I leave and when I get back; I'm never out of your sight.  You know everything I'm going to say before I start the first sentence.  I look behind me and you're there, then up ahead and you're there too--your reassuring presence, coming and going.  This is too much, too wonderful--I can't take it all in!  (Ps 139: 3-6)
God is with us in Christ Jesus.  Though we may be mired in a sea of mud and weeds God seeks us out; sees our name upon our hearts and heads; signals to us a direction and purpose and helps us toward it if we will open ourselves.  The breeze of the Holy Spirit strengthens and repairs us to learn or grow anew.  Like the Israelites, worked as captive slaves in Babylon, who prayed this prayer for encouragement, we also claim hope in our time that God will respond with a new thing, a reassuring presence; whether we're coming or going.  
You know everything I'm going to say before I start the first sentence.  Nonetheless, Jesus invites us to share our expectations and sail with him.
October 2014
Marathon Reflections
"I will bless the LORD at all times; God's praise shall continually be in my mouth....O magnify the LORD with me, and let us exalt His name together." 
Psalm 34: 1, 4
I ran and finished the Marine Corp Marathon (MCM) Sunday, October 26th.  It was a thrill to be in the race with 30,000 other runners and walkers.  I offer some reflections on that experience.
I have always run not to praise God but I do praise God while I run.  Running is an athletic event which I do for physical and emotional health.  Although it is possible to offer running (or most anything else, for that matter) as praise to our Creator, I believe the Psalmist accurately gauges our purpose as continual praise - wherever we may be.  While I turn the wheel of my bus I praise God, and when I run along lane three of our local track I do the same!
The race began with the firing of a howitzer.  Nothing about this race is small.
Seeing Medal of Honor recipient, Retired Marine Cpl. William Kyle Carpenter's many-colored parachute float down to starting line against the blue sky was inspirational.  The practical pastor within me prayed:  Please, Lord, don't let this man sprain or break his ankle!
I hadn't run 500 steps when I looked up to my left and saw white crosses sitting on a green lawn.  Above those sacred reminders of courage and cost stood a white, Greek revival mansion with columns framing the front porch.  Today that home is known as Arlington House; in 1864 it was known as the Custis-Lee mansion, home of Robert E. Lee prior to the Civil War.  Quartermaster General Montgomery Meigs had recommended the estate be used as a national cemetery for the Union dead then flooding into the District at the rate of about 2,000 a week.  A Washington newspaper of the day wrote of the new cemetery:  
The people of the entire nation will one day, not very far distant, heartily thank the initiators of this movement…. This and the contraband establishment there are righteous uses of the estate of the rebel General Lee, and will never dishonor the spot made venerable by the occupation of Washington.
The cemetery was begun:  laying Union dead at the doorstep of General Lee's home.  Meigs' own son was killed in October of 1864 and buried in the rose garden of the Lee mansion.  It all became Arlington National Cemetery.  As I looked upon it I felt the same "thanks" anticipated by the article:  thanks for the serenity and dignity of the place, and thanks to the ones who have been buried there.
As we ran through Rosslyn, Virginia I remembered the racecourse map showing a giant bell curve of a hill.  I had worried about the slow energy drain this climb represented.  When I turned toward the hill I saw that the climb wasn't abrupt at all!  Steadily I ran up the slight incline which leveled off at the three mile marker.  I looked around, astonished, and chuckled to myself:  What was I worried about?  Sometimes we just borrow more trouble than we need.  
As I passed the Kennedy Center for the reforming Arts I saw and heard the Marine Corps Band playing the Marine Hymn.  They were clad in "dress blue" uniform and sounded great even though they were about fifty feet from the runners.  As the Band's horns drifted off into distance I continued to sing the words that I learned somewhere in elementary school:  
From the Halls of Montezuma/To the shores of Tripoli/We fight our country's battles/In the air, on land, and sea; First to fight for right and freedom/And to keep our honor clean; We are proud to claim the title/Of United States Marine.  
Knowing the words to a song, remembering a poem, recalling a scriptural verse is an exercise that strengthens and completes us.  I am strengthened by exercising my mind, memory and voice in saying again that which I love or admire.  I am completed as I connect, through recitation, with something that is far greater.
Seeing my wife, Laura, along the way to the finish was a help and encouragement - a strengthening of the heart!  She is an incredibly generous friend, organizational genius, and courageous collector of the sweaty shirts I throw at her!  She is the BEST, and I love her!
The marathon is deceptively easy:  All you do is run forward.  But elements of humidity, wind, higher temperatures, lack of rest or hydration, and injuries conspire against the runner.  Many people walked during this race which is a last resort.  Most runners I saw walking held their heads down and trudged along.  I walked at mile 22 and again at mile 24 because I was so tired from the pre-race travel.  Nonetheless I walked quickly and held my head up, moving my arms - all with forward purpose.  At this point the marathon is like life itself:  
Again I saw that under the sun the race is not to the swift, nor the battle to the strong, nor bread to the wise, nor riches to the intelligent, nor favor to the skillful; but time and chance happen to them all....Wisdom is better than might.  
Rest, come back and do your best.  That's what we give to the race.
Crossing the finish line and receiving a medal from a Marine Lieutenant.  I saluted him, first; then thanked him.  He placed the medal around my neck and we shook hands as he congratulated me on finishing the race.  I was touched by the fact that someone important and great was serving me.  It was a good reminder of the truth of Jesus' words:  Whoever wants to become great among you must be your servant.  It was inspirational to be with someone truly great. 
Being attended to in the medical tent by strangers who worked hard at caring for you.  I was exhausted and dehydrated, disoriented and weak.  Two men picked me up after I lay down on the ground and put me on a cot.  I was given water to drink and crackers to eat and was revived in about 40 minutes.  Nurses kept asking how I was feeling.  Eventually I got the impression that they saw "my case" as not so bad, and wanted me to move along so another, more seriously affected runner, could use the cot!  The only rough part was the rectal thermometer!
Upon finishing the race, runners are directed to the "War Memorial" of the Marine Corps:  the iconic image of men raising a flag on Mount Suribachi toward the beginning of the battle for Iwo Jima.  As a youngster, my parents taught me how difficult war was generally, and how particularly ferocious the fighting was on Iwo Jima (over 8,600 casualties in one month of fighting).  Now I was "with" the monument again (having originally visited it in November of 1966) and prompted to recall the sacrifice and heroism of the men and women in our armed forces.  It dawned on me how great an honor it was to have my marathon achievement linked to what the monument represented.  It's like faith itself:  being linked to something far greater than ourselves which, in turn does not diminish but builds us up.  Thanks be to God for that inexpressible gift!  
September 1, 2014
While Watching the World Burn....
But of that day or that hour no one knows, not even the angels in heaven, nor the Son, but only the Father.  Take heed, watch; for you do not know when the time will come.  It is like a man going on a journey, when he leaves home and puts his servants in charge, each with his work, and commands the doorkeeper to be on the watch.  Watch therefore--for you do not know when the master of the house will come, in the evening, or at midnight, or at cockcrow, or in the morning--lest he come suddenly and find you asleep.  And what I say to you I say to all: Watch."  Mark 13: 32-37
I asked a rider recently what his Bible study group was reading.  "Revelation and Daniel," was the reply!  "These books totally explain what is happening these days," he said breathlessly.
I have to admit I've wondered "what is happening" these days.  Consider what we've heard in the news this summer:
Israel and Hamas continue to kill each other without regard to civilians' property or lives.  Is there a cease fire or not?  Can talks produce any lasting peace
The Ebola virus is killing thousands of people in western Africa and one man has died from the infection in a Dallas, TX hospital.  What is next?
A shooting of an unarmed civilian in Ferguson, MO by a police officer, and the massive protests responding to the incident has fallen off the front page.  Ernest talking continues between the African-American community and elected officials of the town over issues of accountability by police, and the just use of power. But peaceful protests continue and the only response by authorities so far is to have those protestors arrested!
Russia's 1,200 troops and 30 tanks on Ukraine's border, and so-called rebels (supported by Russia) in Ukraine makes us wonder about Jesus' words:  wars, and rumors of wars.  Meanwhile, rebels in Ukraine had shot down a civilian airliner and are in pitched battles against the legitimately established government.
Civil war, and religious persecution in Iraq by Islamic State forces, combined with the escalating military involvement of the United States concerns everyone.
The mighty football Oregon Ducks have lost not just a game, but a seemingly sure-fire chance to play for a national college championship.  The disappointment in Oregon is palpable.
The world is on fire.  It is difficult to tell what part of that fire threatens us most:  The chaos around the world or the division among and anger of people at home? 
When I listen to these news stories I feel both helpless and anxious.  Helpless, because I really can't do much to respond to what I hear.  I feel anxious because I would like to do  something; I have no idea of what that might be.  I'm not even sure what God can do to change things.
Jesus' words, "Watch!" are not so much a solution as a direction offered.  Jesus once prayed, "My Father, if it is possible, let this cup pass from me...." (Matthew 26: 39) but that prayer was not answered.  In fact, it seldom is.  Things happen to each of us, all of us, that indicate the reality, if not the finality of suffering and death in this life.  But the direction Jesus calls us to look in gives us hope and strength to struggle to live faithfully for God.  Jesus's word, "Watch!" turns us in the direction of hope for God's saving activity to come.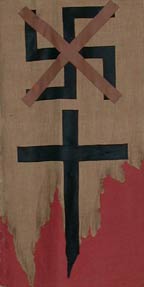 Someone who modeled this faithful watching was Dietrich Bonhoeffer, a theologian, seminary professor and member of the Confessing Church in pre-World War II Germany.  Bonhoeffer witnessed and joined those who opposed, to the extent possible, the rise of the National Socialist Party in Germany and concomitant events:  Kristallnacht and the militarization of Germany; the Reich's usurping of Christian Churches' purpose and loyalty; the Barmen Declaration which was a public and theological statement rejecting Hitler's call to the Church to put loyalty to government above loyalty to God; and ultimately, helping to form the Confessing Church which was an underground movement opposed to the "Nazification" of the Protestant church in Germany.  
Bonhoeffer lived in Germany during World War II and suffered the privations the war brought on its citizens.  He eventually joined with other civilians and ranking military officers to assassinate Hitler.  This effort failed in July 1944.  Bonhoeffer and other conspirators were discovered, arrested and jailed not long after.  In his imprisonment, he was separated from his fiancee, Regine Olsen, who he saw once prior to his execution on April 9, 1945.  He was offered a chance to escape prison but refused knowing the punishment that would fall upon his family left behind.  
In the face of such misery and even torture, Bonhoeffer wrote these words to a friend:
During the last year or so I've come to know and understand more and more the profound this-worldliness of Christianity.  The Christian is not a homo religiosus (inherently religious), but simply a man, as Jesus was a man....  I don't mean the shallow and banal this-worldliness of the enlightened, the busy, the comfortable, or the lascivious, but the profound this-worldliness, characterized by discipline and the constant knowledge of death and resurrection.
I discovered later, and I'm still discovering right up to this moment, that is it only by living completely in this world that one learns to have faith.  One must completely abandon any attempt to make something of oneself, whether it be a saint, or a converted sinner, or a churchman (a so-called priestly type!), a righteous man or an unrighteous one, a sick man or a healthy one.  By this-worldliness I mean living unreservedly in life's duties, problems, successes and failures, experiences and perplexities.  In so doing we throw ourselves completely into the arms ofGod, taking seriously, not our own sufferings, but those of God in the world-watching with Christ in Gethsemane.  That, I think, is faith; that is metanoia (the change of our mind for God's way); and that is how one becomes a man and a Christian.  How can success make us arrogant, or failure lead us astray, when we share in God's sufferings through a life of this kind?  (Letters & Papers From Prison, pp. 369-370)
Bonhoeffer shared pastoral ministry while in prison while beset with fear about torture and worry about the safety of his family.   In spite of that he listened to and prayed with enemies and friends in his cell.  A doctor wrote about Bonhoeffer on the day he was hanged: "I saw Pastor Bonhoeffer... kneeling on the floor praying fervently to God. I was most deeply moved by the way this lovable man prayed, so devout and so certain that God heard his prayer. At the place of execution, he again said a short prayer and then climbed the few steps to the gallows, brave and composed. His death ensued after a few seconds. In the almost fifty years that I worked as a doctor, I have hardly ever seen a man die so entirely submissive to the will of God." 
No matter what trouble happens in this world, Jesus Christ is with us and helps us live faithfully.  Examples abound today:  The doctor, nurse or orderly that helps a victim of the ebola virus; the volunteer who stays up at night at a homeless shelter as a host or hostess; the soldier that listens to another GI pour out their fears; the one who teaches in public schools without the advantages of plenteous financial support.  These and many other believers who act on their faith in spite of the odds of worldly success, are watching for Jesus' victory over death; trusting Bonhoeffer's "this-worldliness" in the arms of God:  involved in hope. 
This is my Father's world:
Oh, let me ne'er forget
That though the wrong seems oft so strong,
God is the ruler yet.
This is my Father's world,
The battle is not done:
Jesus who died shall be satisfied,
And earth and Heav'n be one.
3 August 2014
Sowing Seeds
Listen! A sower went out to sow.  And as he sowed, some seeds fell on the path, and the birds came and ate them up.  Other seeds fell on rocky ground, where they did not have much soil, and they sprang up quickly, since they had no depth of soil.  But when the sun rose, they were scorched; and since they had no root, they withered away.  Other seeds fell among thorns, and the thorns grew up and choked them.  Other seeds fell on good soil and brought forth grain, some a hundredfold, some sixty, some thirty.  Let anyone with ears listen!  Matthew 13: 3-9
A parable (parabola in Biblical Greek) means to lay side by side for a comparison.  There are four kinds of parables in the Bible:
Similitude uses like or as to set up the comparison. (The realm of God is like a grain of mustard seed....)
Story shares a set of actions, with conflict and a resolution.  (A sower went out to sow....)
Proverb or riddle offers a comparison in the form of a popular saying.  (Pilate:  Are you the king of the Jews?  Jesus: You have said so.)
Extended metaphor is a short story that explains the like/as comparison.  (The realm of God shall be compared to ten maidens who took their lamps and went to meet the bridegroom....)
A parable also subverts myth.  A myth is a story or view of reality that can be proven neither true nor false but is assumed to be the basis of all perspectives within our culture or society.  A parable challenges that perspective by creating doubt, and hence making room for God to work within our "reality".  The parable of the "good" Samaritan would be an example of the subversive power of parable:  A cultural enemy, like the kind Samaritan of Jesus' story, is also our neighbor.
Whatever the point, it's up to you, the listener, to grasp it and respond.  
In telling this story about the sower, what point was Jesus making?  I believe Jesus was evangelizing; inviting people into the community of Jesus.  
Jesus didn't consider evangelism a matter of doctrinal assent (agreeing that you are a sinner, outside of God's grace, and coming into God's circle of care by agreeing that Jesus is the Christ.)  
Jesus' story of the sower is an invitation to people, anyone, into the community he was leading and shaping.  The community Jesus was shaping was (and is still) the people who are living as though God were in charge of the world, because God is in charge of the world.  Christians will love and obey God's will.  (Remember Jesus' central prayer:  Thy kingdom come, thy will be done on earth as it is in heaven!)  
This parable/story asks people to identify with one of the elements of the story, and to follow the impulse or function of that element as the entry way to belonging to God's community.  
Am I the sower; seed; soil; thorn; path; the 30% yield; sun; bird; the 60% yield?  What have I been? What can I become?  Jesus' power in this story is the indirect appeal to listeners to enter God's realm and participate according to one's abilities.  This is the good news:  You are invited to play a part!  What will that part be?  You decide!  You come in with us!
How can I respond to this parable?  We evangelize (ourselves and others) by identifying with one of the elements of the story and living the function of that image.
I like to think of myself on the bus as sowing seeds of kindness, service and encouragement.  In trying to speak to people, not yell at them; in patiently listening to every question and answering helpfully, not sarcastically; in greeting every rider with a smile and welcome; in offering appropriate and brief comments to those in need (How's your arm today?  Missed you last week; I hope you weren't ill!); in occasionally praying with someone in acute need or offering a small financial gift to (usually) a single mother up against a financial deadline, I believe I am answering God's call to sow seeds for God's rule on earth.  I believe I am living, faithfully, as the first sower lived in sowing seeds of kindness and acceptance.  
In painting the picture "The Sower at Sunset" (1888) Van Gogh was answering the same kind of personal call.  Van Gogh believed deeply in Jesus and wanted to serve the poor as Jesus had.  Throughout his life Vincent often shared what little food or money he had with others who had nothing to eat or nowhere to live.  Vincent retells the story of the sower in this painting, two years before his own death.  He includes all the elements of the story including the yield of wheat in the distance.  Vincent may have seen himself as "part of the yield" of wheat.  That was the point of the story for him.  Through painting, and living faithfully in service to others, he was the harvest.  
The painting, with its vibrant colors and quiet action in the center offers the viewer that same invitation that Jesus intended.  That in viewing the parable as well as hearing it, we might see the place that God calls us to take in God's community of service and love.
As you read the parable of the sower, what image, word, phrase or action attracts your attention?
27 July 2014
A Final Word on Forgiveness
Prospero (to Antonio) For you, most wicked sir, whom to call brother Would even infect my mouth, I do forgive Thy rankest fault, all of them, and require My dukedom of thee, which perforce, I know Thou must restore. (Act 5; Scene 1)
...Love your enemies and pray for those who persecute you, so that you may be children of your Father in heaven; for God makes the sun rise on the evil and on the good, and sends rain on the just and on the unjust.  Matthew 5: 45
The Tempest ends with Prospero making amends with all the other characters and inviting them to a feast for rejoicing.  As he prepares to "walk out of the scene" he looks at Antonio, the man who started the entire mess of a backstory by stealing Prospero's Dukedom without cause, and speaks the words above to him.  Prospero forgives his brother.  The past is done with.  Restoration will move forward! 
The version of the play I saw had Prospero speaking these lines in a firm and loving voice.  He looks at Antonio, who only half faces the speaker, reaches out his hand and motions that he join the party.  The actor playing Antonio offers no hint of whether or not he will accept the forgiveness or join his brother in the celebration feast.  Antonio stands, motionless, looking somewhat angrily at Prospero, and walks off stage in a different direction. The choice is obviously Antonio's as to whether or not he'll participate in the process of reconciliation.  But forgiveness has been extended, and granted, to be sure.
There, the play ends with Prospero's soliloquy which says in part:
As you from crimes would pardoned be,
Let your indulgence set me free.
The play ends with the reminder of Jesus' prayer:  we are forgiven as we forgive.  Forgiveness and reconciliation dramatize God's nature.  God, in Jesus Christ, wants to forgive us and even died on a cross so that our sins would be pardoned.  There was great debate in Shakespeare's day about who Christ died for and why.  Did he die for all people or only those who wanted to be forgiven?  Does that grace cover all sins or only those sins of people who confess them?  The play seems to offer a picture of God that is complete - God covers ALL sins of EVERY person, regardless of their view of God.  It is the nature of God to be generous to friends and enemies alike.  Jesus' teaching in the Sermon on the Mount offers that inclusion so that every one who hears his voice will hear the welcome of God as a daughter or son.  That is good news!
I left the play wondering if Antonio's silence (he speaks nothing significant in Act 5) was intended by Shakespeare, as a sort of invitation to the audience?  Was Shakespeare, via the reticence of Antonio, asking us to decide, for ourselves in our contexts, whether or not we would extend forgiveness or accept forgiveness?  The Tempest stands as a not too subtle doorway for us to walk through, just as the father in the parable of the prodigal son, stands at the doorway of the welcoming party for the prodigal, and urges his older son to walk through so that he, too, might join in the reconciliation.
In my folksy way I have to say, that Shakespeare could sure write!  In the spirit of the living Jesus, will you accept a dead poet's sincere gift of grace?
26 June 2014
Seeing God through The Tempest
Part II
If The Tempest is a wagon wheel with spokes radiating out from Prospero to the several main characters, we continue to roll along our understanding of this drama's main thematic feature:  experiencing God through forgiveness.
Prospero, the main character of The Tempest is like God in that he exercises both tremendous power over all other people, but also is kind, loving and consistently moderates his harder feelings.  He reminds us of the prophet Joel who describes God's attitude toward a sinful Israel which has considered repentance (2: 13-14):
"...Rend your hearts and not your clothing. Return to the Lord, your God, for he is gracious and merciful, slow to anger, and abounding in steadfast love, and relents from punishing.
Who knows whether he will not turn and relent, and leave a blessing behind him, a grain offering and a drink offering for the Lord, your God?"
It is in his troubled relationships with Alonso and Antonio that we see "an amazing grace" through the dynamic Prospero.
At the end of Act 3, scene 3 Gonzolo makes these remarks about Sebastian, Antonio and Alonzo who have conspired in the past to usurp Prospero's authority and murder him:
"All three of them are crazy with despair.  their guilt is finally starting to gnaw at them, like a slow-acting poison.  Those of you who are young and active, (referencing other servants) I beg you to follow them and keep them from doing the crazy things their guilt might push them to do." 
Prospero has harassed these men since they've been on the island.  Vulnerable as they are to Prospero's magical powers, Sebastian and Antonio especially are arrogantly resistant to the forces that threaten them.  They believe in their own strengths and cunning.  In fact they have even plotted to kill king Alonzo (who helped them seize power from Prospero in the beginning)!  Gonzolo's observation sets them up for the denouement of the play.
Prospero meets the party as they are wandering around the island, lost.  This exchange (in translation) comes as Prospero reveals himself to the shipwrecked party:
Prospero to Alonzo:  Your Highness, you see before you the Duke of Milan, Prospero who's been wronged.  I'll embrace you now so you will know it's really me, a living prince, talking to you.  I heartily welcome you and your entourage here.  (he embraces Alonso)
Alonso:  Whether you're really him or whether this is some magic trick like I was recently subjected to, I don't know.  Your heart beats like you were real....  I surrender your dukedom (which Alonzo helped to steal) and beg you to forgive me all my crimes.  But how is it possible that Prospero's alive and well and living on this island?
Two spiritual landmarks stand out in this interchange.  First, the absolute graciousness of the character who is wronged but has already forgiven!  Prospero, modeling God's nature in Jesus Christ, is reaching out to all of the treacherous ones in grace - that quality of God which accepts people as they are; letting the debt go.  In the production I saw, the actor playing Prospero opened wide his arms and smiled broadly and spoke the above quoted lines in a deep, manly and warm voice.  On the deepest level, Shakespeare communicates that moment that we all long for, being welcomed home after straying far.  It was and is a touching moment without being melodramatic.
The second spiritual landmark suggested in this interaction is the example of Alonzo confessing one's sin immediately and sincerely.  When confronted, albeit indirectly, Alonzo could hide behind his office and deflect guilt onto Antonio or make an excuse that he was duped into the betrayal.  Instead, he makes no excuse for himself.  He confesses his wrong and asks for forgiveness (which is granted immediately!)  
Though understated, these are the two landmarks that (as examples) guide our spiritual lives from this drama.  God searches for us in the tempests of our lives and waits upon us to quit our subterfuges of power, our wanderings upon the island so that we might come to God, confess our need and receive, free, grace; forgiveness for our sins.  In Jesus' death upon a cross and resurrection from death, he has won our salvation from sin and offers it to us even before we confess our sins (recognize our need for God.)  
End of Part II
June 12, 2014
A View of God Through the Tempest
"Forgive us our debts; as we also have forgiven our debtors."  Matthew 6: 12 
"And by that destiny to perform an act Whereof what's past is prologue, what to come In yours and my discharge." Antonio, act 2; scene 1; The Tempest
After seeing Shakespeare's The Tempest I asked the actor who had played Gonzalo, who was with us in an "after show" Q and A session to reflect on the theme of forgiveness in the play.  He responded to me, saying, "I don't  understand the question."  While it is possible I wasn't clear in my query, I was struck while reading the play, and again in seeing it with the magnitude of the role of forgiveness in the entire story.  
Characterized as a romance, and the last play he wrote alone, The Tempest is seen as Shakespeare's literary farewell.  Prospero, the duke of Milan, has had his royal and economic power usurped by his brother, Antonio.  Antonio was helped in this treachery by the king of Naples, Alonzo.  At the time of the takeover, Antonio and Alonzo intend to kill Prospero and his (then) infant daughter, Miranda, by putting them out to sea; leaving them adrift in an open boat with no food or water.  At that moment, Gonzalo gives Prospero and Miranda enough rations to survive.  Eventually, the father and his daughter safely land upon an island where they make a living in isolated exile.  Now, twelve years later, Prospero has mastered the magic arts and orders a tempest to misdirect a ship holding Alonzo, Antonio, and Gonzalo among others, and crashes the vessel into the island.   Prospero confronts the three.  Instead of destroying them by exacting revenge, he forgives the two evil doers.  Prospero assumes his old position of authority and renews his friendship with the king of Naples personally and through blessing the marriage of his daughter, Miranda to the king's son, Ferdinand.  The play ends with Prospero's Epilogue which states in part:  
...Unless I be relieved by prayer,
Which pierces so that it assaults
Mercy itself and frees all faults.
As you from crimes would pardoned be,
Let your indulgence set me free.
The play works like a wheel with Prospero at the hub and the various characters, like spokes, enjoying a connection and purpose with him.  Prospero is like the Creator in that he enjoys unlimited power but chooses to use the authority it brings in a cooperative way with the other characters.  He forgives others and allows that in turn, they will repent and live in the roles they own; working faithfully and well toward what is right.  While our Creator God is much more than this, the characters (spokes in the wheel) contribute toward a composite picture of what it means to live life forgiven and free.
Ariel is Prospero's spirit helper.  She exercises great power herself but is completely under the control of Prospero.  He rescued Ariel from a long imprisonment within a tree at the hands of an evil witch, Sycorax. (It was mine art, When I arrived and heard thee, that made gape The pine and let thee out. Act 1; Scene 2)  Ariel was serving, apparently, a set sentence which has been commuted by one year and now serves a kind of probation under Prospero.  Ariel clearly complains about her servitude but lives faithfully toward the day of her complete freedom.  She even professes love toward her master, Prospero:  Do you love me Master, no? (for making these particularly effective arrangements?) "Dearly my delicate Ariel.", he answers.  Finally, near the end of the story as Ariel completes Prospero's plan for a kind of redemption of the other characters, he fulfills his promise to Ariel:  My Ariel, chick, That is thy charge.  Then to the elements Be free, and fare thou well!"
Ariel's talent and good desire exemplifies our human condition of sin (caught in a tree - powerless against the cross; unable to move in any positive direction).  Ariel is freed by a covenant relationship with one greater than she (liberated and participating in the plan of redemption of Prospero).  In that covenant relationship she is fulfilled - at her best.  She is released by the grace of Prospero at the end, and she is free from all obligation while Prospero declares appropriate love for her.  (The death of one aspect of life gives birth to another which we can shape in hope).  One wonders what a duo like Ariel and Prospero could accomplish in a Tempest II?  One wonders what anyone could accomplish with God given a spirit of cooperation like Ariel's?
Caliban is the son of the now dead witch Sycorax and was living on the island when Prospero and Miranda washed up on shore.  Caliban welcomed them and showed them how to survive.  Through his magical power, Prospero made Caliban a slave and took over management/ownership of the island.  For this, Caliban resents Prospero.  Caliban's speech and behavior is sometimes coarse and brutal, sometimes eloquent and sensitive.  He is called by others throughout the play "monster," as his appearance is not completely human. He seems not to walk upright.
Caliban represents the duel components within humanity of innocence and culpability.  He apparently lived in relationship with Prospero and Miranda until he was punished for attempted rape of Miranda.  He serves a long sentence of servitude but at the end of the play seems to be redeemed.  In the denouement of the play Prospero speaks these lines to Caliban.  
Go, sir, to my room.  
Take with you your companions.  As you look
To have my pardon, trim it handsomely. 
Caliban responds
Ay, that I will.  And I'll be wise hereafter
And seek for grace....
As they speak, Prospero, in a fatherly and loving way, takes Caliban by the arms and gently lifts him up so that they speak face to face, seeing eye to eye.  Caliban stands tall, erect, shoulders back, head up.  Prospero (as Creator) makes a new man in his forgiving power.  Caliban seems truly changed; inspired by the love; putting the past behind him and living into a hopeful, new life.
End of part one
June 5, 2014
Looking to the Hills for Help
I lift up my eyes to the hills— from where will my help come?  My help comes from the Lord, who made heaven and earth.  He will not let your foot be moved; he who keeps you will not slumber.  He who keeps Israel will neither slumber nor sleep.  Psalm 121: 1-4
I ran recently along the Elk River, just outside of Port Orford, Oregon.  It is a beautifully scenic place.  The clear and light green waters cascade wildly out of the Siskiyou mountains, having cut a deep gorge by crashing over ancient granite.  Running along the river allows me to smell the fresh air which is full of the scent of hemlock, cedar and spruce trees.  From under those come the humid feel of a thousand ferns and through that green carpet splashes the occasional waterfall.  Moving quietly has allowed me to sneak up on eagles and hawks patrolling the river and step over  lizards and chipmunks.  This most recent visit allowed me to virtually "shake hands" with a hummingbird sampling pink foxglove and play tag with a robin who fluttered weakly up the road as I followed, luring me away from its low-lying nest.  Through the variations of sunshine and deep shade along the road I am filled with awe and joy as I look straight up into the tree-lined peaks.
Often in times like this I am moved to pray.  I thanked God for the ability and health to run.  I also laid out my goals for the upcoming race I was practicing for.  Then the thought occurred to me and I prayed exactly this:   "Lord, make me not just a better runner; please make me a better man."  In going on this small journey, I started with a training goal but discovered the desire to get closer to God.  It has taken me a long time to realize that: the Elk River is a place God has provided not only for me to train in but to be restored and shaped for new events by our Creator.
The psalmist expressed this through the verses printed above.  Psalm 121 is about the difference between the certain care from the God of Israel compared to the other empty gods.  Looking up to the ruggedly pretty hills of ancient Israel reminded the psalmist of the sites atop those hills for idol worship by other cultures.  Those worship sites were majestic in their views and supposedly nearer to "god" in the high locations.  But the trips up and down the hills for sacrifice to empty names was ultimately, unfulfilling.  Eventually, people realized that anyone could worship Yahweh and receive help from the Creator who was on the job 24/7 without climbing a hill at all! 
Help comes from the God who made all of earth, every place, and is alert to who we are and our needs everywhere!  
It takes perspective to get the message, sometimes.  I have to get away from the noise and business of life to see what God truly wants me to be or do.  I ran up a hill in search of help for a footrace, but ran down the hill filled with a sense of help for a new race toward new goals in life.  But my help comes from the LORD who created heaven and earth.  
The needs may be different for you, but the hills and small mountains offer the same invitation to get away for a scenic retreat, or not.  In any case, wherever you may be you can meet the Creator of all of life to find the help, encouragement, power, direction or opportunity you need today.  Just look up and around; just begin to pray and ask.  God is with you and desires to keep your footsteps steady.
May 14, 2014
When Morning Gilds the Skies
"I wait for the LORD, my soul waits, and in his word I hope;
my soul waits for the Lord more than those who watch for the dawn,
more than those who watch for the dawn."  Psalm 130: 5-6
In the early hours of the morning I am usually busy; my hands and feet especially!  I used to run early in the morning, shower and then race to a hospital waiting room or visit a Bible study.  Now I am steering and swaying along scenic Terwilliger Boulevard, that overlooks Portland and Mount Hood itself.  In either case I am a "dawn watcher" and thrill to seeing the orange sun come up over the mountains, silhouette the hills and cast many-colored reflections on the mighty Willamette below me.
When I take my eyes off the road for a minute and glimpse the sun coming over Mount Hood I am reminded of these words from Psalm 130:  My soul waits for the Lord more than those who watch for the dawn.  What does the dawn mean?
First, for the ancient people of the Bible, night was not necessarily a time of terror or demonic activity.  Night was seen as a time of rest, celebration of the day past, and a blessing of peace.  Dawn, naturally, breaks the darkness and provides a time to give thanks for the rest or peace that we have (hopefully) enjoyed.  I am so thankful when I can meet the new day, having rested well the night before.
Second, seeing the dawn come over the mountain gives me inspiration to live.  Like you, I value beauty and look for it in every person or animal I meet and situation I am in.  I like to think of the sunrise as a gift from God to make me smile and to give me pause to reflect upon God's light, wisdom, strength and patience in my life.  Seeing that sun peak out through the clouds makes me want to try again, to be my best for God.  It isn't always easy nor am I always even close to successful, but to be inspired (from the Latin inspirare-to breathe) means to breathe in (presumably) the Holy Spirit which meets us where we are and takes us where we need to go.  Hours into my day I still remember that "Wow!" experience at the beginning, and live in that encouragement of beauty; keeping on my mission for God (be that what it may for you and me).  That colorful dawning is a sign of the goodness of my journey with Jesus.  
Last, the dawn causes me to hope in God's promises, which is the point of waiting for dawn.  
Night is difficult.  Many times we don't rest at night.  We try to watch through night and fog with little success.  Dangerous things and malevolent people attack, at times, at night.  Bad weather or other catastrophes seem to strike harder under the dark clouds of evening. There is also less help at nighttime because so many around us are at rest even as we are wide awake, worried.  Drivers, statistically, have more accidents in darkness.  The winter drear is difficult because slippery conditions on the roads and deep shadows which street lights barely penetrate, hinder our vision.  
The coming of dawn holds more than symbolic promise for us, however!  Even a little sunshine lifts us up and opens our eyes to what is "there" and what is not.  Jesus' glory dispels our fear and augments our confidence to continue our difficult road.  These assurances are all gifts of God; Christ Jesus standing with us in reminder of his grace and strength to meet our need.  One of my favorite hymns puts it best:
When morning gilds the skies, My heart awaking cries:
May Jesus Christ be praised!  Alike at work and prayer,
To Jesus I repair; May Jesus Christ be praised!
Or as Psalm 139: 12 tells it:  Even the darkness is not dark to you; the night is as bright as the day. What we cannot see or compete with, God conquers!  Thanks be to God that we see in the light of Jesus Christ.
The next time early morning rolls around, lift up your head for a moment and allow the sunshine to warm your face and light up your eyes; even if you're driving, breathe in the promise of a new day; God's day for you!
April 23, 2014
Last in a Series on Prayer and Healing
          "The prayer of faith will save the sick, and the Lord will raise them up; and anyone who has committed sins will be forgiven.
          Therefore confess your sins to one another, and pray for one another, so that you may be healed. The prayer of the righteous is powerful and effective."  James 5: 15-16
A friend recently asked me if the number of people praying for a particular person or for a particular outcome in healing is important.  So often, for example, people tell us that "Prayer groups around the world are praying for my loved one or for this outcome!"
While I think this is a comfort to those who are immediately concerned, I don't think the number of people praying makes a lot of difference in the outcome of a healing or in any situation, for that matter.
First, our Creator who hears all prayer is not a city council member or the mayor of our cosmic city.  That is to say, God is not impressed with the number of petitions we sign or informed by interest groups describing the need of constituents.  Isaiah (55: 8) tells us "For my thoughts are not your thoughts, nor are your ways my ways..."  God knows and remembers what we need.   God uses God's own timetable to respond.  
Second, James tells us that prayer is a function of our unity and love in Christ.  James' view of the church is that division (because of sins against one another) needs to be resolved before heavy lifting can be done.  Our interest in conversation with God, after all, is directly proportional to our distance to God.  Long distances or silences indicate, generally, disinterest. When we pray we tend to raise our own awareness of "where we are."  The next step, after prayer, is to address "that" situation.  Jesus' words in Matthew (5: 24-25) about remembering a difference, leaving worship, and settling accounts with that one is our standard to follow.  If we're praying against one another or at cross purposes, we are not effectively being the body of Christ.  James' reference to "the righteous" describes Christians whose care is reflected in unity of purpose and effort.  If you bleed, I bleed; If you laugh, I laugh, too.  That unity is what makes our prayers effective with God.  When Jesus tells believers "...Where two or three are gathered in my name, I am there among them. (Matthew 18: 20) he is encouraging the same fruit.
Last, our prayers are effective as you and I pray them and are changed by them.  There have been times when you were the only one who "knew" about something.  You folded your hands and closed your eyes, and spoke to God your feelings, needs and desires.  Only you were aware and only you asked.  And God granted your desire for healing or fulfilled your need.  
The Bible says that the prayer of faith, the willingness to speak out at all, is what helps those in need.  The Bible doesn't say, the perfectly worded prayer by the highly experienced believer accomplishes much.  James tells us that praying much accomplishes much - especially on our own; not many praying a few, half-informed, half-hearted words. When you pray for you, great things can happen.
The next time you have a prayer concern, tell the church.  But make it a point to pray as if you were the only one praying to God for a healing - because, in a sense, you are.  If your concern for healing (someone else's or your own) isn't your top priority, why should it be anyone else's?  That's what James means by the righteous prayer accomplishing much in power and effect - our faith bears fruit in the action.      
Easter 2014
Stay with God!  Take heart.  Don't quit.  I'll say it again; Stay with God.  -Psalm 27: 14
I will bless the LORD at all times; his praise shall continually be in my mouth.  -Psalm 34: 1 
Bless the LORD, O my soul, and do not forget all God's benefits....      -Psalm 103: 2
Gracious speech is like clover honey:  good taste to the soul, quick energy for the body.  -Proverbs 16: 24
God comes alongside us when we go through hard times, and before you know it, he brings us alongside someone else who is going through hard times so that we can be there for that person just as God was there for us.     
-2 Corinthians 1: 4
A friend of mine, Helayne (not her actual name) taught me recently a secret to spiritual success.  See if you can discern that secret by reading the supporting scriptural teachings, above. 
Helayne is a normally healthy, energetic and caring adult who began to have problems with her physical strength and endurance.  She consulted her physician and as problems worsened, she was hospitalized.  In effect she spent the next two years in and out of hospitals trying to find answers (and later) a cure for her particular health issues.  Common diseases and reasons were ruled out and eventually a specific cause was identified which could be corrected.  But perseverance for Helayne and her faithful husband was not the secret to their successful facing of this ordeal of living away from home in pain and uncertainty.
During this ordeal of gurneys, IV solution bags, needles and white sheets occasionally stained with blood, she developed a habit that saved her life.  She prayed for healing, and made it a point to cooperate with every member of the hospital staff.  She resolved to be a positive force in the life of everyone that she came in contact with from the orderly with a mop to her white-coated specialist.
This is what the scriptures, above, teach.  Each reference (and there are many more) demonstrates the link between not only hope and healing but shows the source of strength for that helpful and encouraging outlook:  Faith in God whom we know in Jesus.
Psalm 27 urges us to "Stay with God! Take heart"  This is the "punchline" to the question posed at the beginning of the psalm:  Whom shall I fear?  Our faith in God helps us to practice the relationship which assures us that we are not alone in a time of trial.  We don't have to face "things" alone; we manage because Jesus is our partner in the struggle to believe.
Psalm 34 tells us that when praise characterizes our speech:  we not only worship God but we lift ourselves up, too.  Giving praise, instead of complaining each time a difficulty arrises is a learned art, but when we continually meet those challenges with praise to God and for others God has put in our way, we are going to be a buoyant force navigating the cataracts of trouble.
In a similar vein Psalm 103 urges us toward regular expressions of gratitude toward God which causes us, in turn to recognize those people God sends to us in answer to our prayers.  Speaking thanks, expressing gratitude, praising publicly the work or help of a nurse or technician or doctor has the positive effect of the concentric rings of waves that come from the stone thrown into the lake:  that encouragement radiates outward and touches all those around us.  Paul's Second Letter to the Corinthians, which deals in part with suffering, makes the same case.  As we affirm by practice God's encouragement in our lives that are broken by sickness, we become effective tools in God's hand; helping others to wellness, too.
It was no accident that as Helayne joked with the staff that she loved her "new address" at the hospital or remembered the personal details staff shared with her and inquired, appropriately, "How are you doing, Doctor?", that her situation in life improved.  Helayne's husband received several comments from staff and medical personnel with the same theme:  Your wife is so positive; I am so uplifted when I work with her!
What is the secret?  Don't lose heart when things go poorly for you; Bless God; that blessing comes through the strength we find in speaking praise and thanks to God and others.  With God's gift of strength also comes  endurance through trials, and the opportunity to encourage others.  That "clover honey" is what God needs from you and me.  I suppose that isn't such a secret.  It's a fact ready to be tried.
Lent 2014
Be a Blessing
I will bless those who bless you, and the one who curses you I will curse;  and in you all the families of the earth shall be blessed. 
Genesis 12: 3
One sunny Tuesday morning in March a friend insisted that I go with him to his Kiwanis luncheon meeting.  The unspoken message was that I should join the club but up front, Jimmy wanted me to come and hear a speaker from nearby NASA talk about the events surrounding Apollo 13:  Our third lunar mission that is known by crew member John Swigert, Jr.'s iconic quote, "Okay, Houston, we've had a problem here."
At the appointed time Jimmy pulled up to my office in a red, convertible Corvette - AC blasting.  We drove the four miles to the United Methodist Church in no time and soon were seated at a round table with white tablecloth, napkins and table service.  The side dish of cranberries and the arrangement of Bluebonnets provided the only color in the room.  We shook hands all around, ate our turkey, mashed 'taters and gravy lunch and settled in for a slide show of "real" shots from the Apollo 13 mission, narrated by an engineer from NASA.
About fifteen slides into the presentation, the projector jammed.  The presenter bought some time by pointing out to the audience the irony of "a talk" about a malfunction, malfunctioning!  The crowd roared but then settled down into a paper shuffling silence.  It was then I realized that the presenter really did have a problem.  Without bowing my head, moving my lips or assuming any visible posture of prayer I looked at the man and his machine and prayed that God might correct the situation.  Shortly the presenter had the problem fixed and we continued on the twenty minute journey into space.  Throughout, I sat five feet behind the speaker but he never turned around to face the audience during his presentation.
At the end of the talk, I stood in a small crowd of people to shake hands and thank the presenter.  When we shook hands, he spoke first, saying, "Thank you for your prayers during that problem with my projector.  I never could have fixed it without God's help!"
I was stunned.  The man had never looked at me.  I never made any visible or audible sign of praying.  How could he have known of my intended help?
The answer lies in part with Abraham's call from God to be a blessing.
In the twelfth chapter of Genesis God calls Abram into a covenant relationship, ostensibly saying I will be your God and you will be my people.  God's care (steadfast love) for Abram and Sarai comes in the form of land (a place to live) and progeny (a name and family to be remembered by).  Both of these aspects of God's love secure a future for Abram and Sarai who stand against the backdrop of countless stars and expansive desert.  Their part of the covenant relationship is to believe and obey as God directs, into the unknown future.  In the meantime that obedience will translate into lives that bless all others who come into contact with Abram and Sari.  
"...And in you all the families of the earth shall be blessed."  Be a blessing.  We have it in our power to curse or to bless.  We can be negative, withhold friendship or help, impede progress or healing any time we want.  We can also be agents of grace, wage peace, provide direction and light by our example, pray for others in need, inspire others by our talk not because of who we are necessarily, but because of who we believe in and follow on the way of life - our God whom we know in Jesus.  
Who has been a blessing to you and how?  How can you be a blessing and with whom will you share that covenantal love?  Be a blessing.  
Ash Wednesday 2014
The Mark of Sin
Yet even now, says the LORD, return to me with all your heart, with fasting, with weeping, and with mourning; rend your hearts and not your clothing.  Return to the LORD your God, for he is gracious and merciful, slow to anger, and abounding in steadfast love, and relents from punishing.  Who knows whether God will not turn and relent....    Joel 2: 12-14
 The story goes that in the midst of a congregation's controversy, the season of Lent arrived with the usual observance of Ash Wednesday.  The worship service featured preaching, prayers and penitential hymns.  Then the congregation formed two lines to have ashes imposed on their foreheads.  
The two worship leaders embodied the controversy within the congregation.  The guest pastor was present because a part of the congregation had forced out their previous pastor.  The elder assisting the guest pastor in worship that night had organized against the ouster.  When the two men planned the service they had agreed that each would "make" their ashes for use in the service.
Making Ash Wednesday ashes is simple.  One first goes where one can set a small fire safely.  Then you take a palm branch used in the previous year's Palm Sunday service and sets the dry leaves afire.  The ashes and debris, symbolizing the imagery of repentance from the Hebrew scriptures of sackcloth and ashes, are then ground up into the dust or soot that is finally smeared upon the foreheads of worshippers.   Receiving ashes on one's face is an honest public statement of trust in God's grace and admission of personal mortality and sinfulness.  The lines people form in this inaugural lenten service to receive those ashes is the sine qua non of Lent.  Without this public, honest attitude about our sinfulness, we have nothing.
The elder followed this simple and time-tested recipe; put the ashes in a small dish; covered that with cellophane; and came to church that Wednesday night.  The substitute pastor made the ashes but wanted to smear something much darker.  So he added a bit of water to the mix.  Serendipitously, the water and residual heat of the mix reacted with his particular clay bowl to form a mildly acidic pap.  He brought that bowl to the service.
The two men stepped in front of the congregation and the people fell into lines before them.  The sanctuary was silent, save for the soft shuffling of the people and the murmuring from the worship leaders, "Remember that you are dust, and to dust you shall return."  The lines dwindled, the leaders smeared each other with ashes, and the people left the church in quiet as the words of the last hymn echoed in their hearts:  Was it for sins that I have done He suffered on the tree?  Amazing pity! Grace unknown!  And love beyond degree!
The following Sunday people were in turn amazed, amused and angered at the sight.  Several dozen men and women had crosses on their foreheads!  The acidic pap from the clay bowl had etched slightly red crosses into the flesh of each worshipper.  Some congregants talked about signs of God's judgment.  Others claimed the grace of Jesus was apparent in this unusual happening.  Others were angrily silent.
Yet even now, says the LORD, return to me with all your heart, with fasting, with weeping, and with mourning; rend your hearts and not your clothing.  Return to the LORD your God, for he is gracious and merciful, slow to anger, and abounding in steadfast love, and relents from punishing.  Who knows whether God will not turn and relent....    
Fifth in a Series on Prayer and Healing
1 March 2014
"Your kingdom come, your will be done, on earth as it is in heaven."  Matthew 6: 10
In my first charge, a young couple "had" twins.  Everyone was happily surprised and the small parish pitched in to help the farm family with gifts and some extra help with "the boys" from time to time.  Valerie helped her husband farm the few hundred acres they had so "staying at home" was not a consistent option for this busy mother.  
One day, by appointment, I dropped in for a visit with Valerie and the boys.  I had picked up some things at the local store for them and made the five mile trip out of town to deliver their order and to sit and chat.  
Valerie told me on that dreary and cold winter Monday that she had had a phone call from her Dad over the weekend.  He had shared the news of a serious illness, a scheduled surgery and a request for prayers for healing.  We reflected for an hour on her Dad, Valerie's feelings and (finally) how we should pray for her dad.
I've learned about two kinds of intercessory prayer.  The first kind of prayer I've usually practiced might be called a directed method of prayer.  The one who prays asks God for a specific outcome.  The teaching of Jesus (rightfully) fuels this method when we consider his "Ask; Seek; Knock" comments in Matthew's gospel or his "Ask anything in my name" teaching in John.  We know about the power of prayer and are directed to pray for outcomes - keeping in mind that prayer is a dialogue with God and that our earnest and directed prayer are only part of the conversation.  This is how I began to pray as pastor with Valerie for her Dad.  "Please, God, through this surgery, save and heal Valerie's Dad!"  We try, and often do, make a positive difference by dictating the outcome to God.
The prayer I've learned more about, the prayer that is less known, and at times, the prayer that is wiser or courageous might be called a non-directed prayer strategy.
In praying or meditating, the images or words we use are important.  Ultimately, when we pray, we are seeking to hear and understand our Creator and the living spirit of Jesus in this life.  While we are free to say or ask for anything, eventually God's will is going to become apparent to us as "our answer" to prayer.  Sometimes, the person or situation we are praying for is too complex for us to understand immediately OR we cannot face the best possible answer and so unconsciously ask for something else.  We avoid praying at cross purposes with God when we pray in a non-directed way.  Some examples are, "Lord, may the best outcome prevail," or Dear God, may you obtain the highest good," or as Jesus put it, "Thy will be done on earth as it is in heaven."  In other words, please, Creator, achieve your will in this situation.  The answers to such prayers may include an invitation for you and me to act in some way.
Valerie, those many years ago was immediately inclined to ask for prayers for healing for her beloved father.  We began to pray that very afternoon while her twins snored in their beds.  During worship for the following several Sundays we prayed and asked others in our small farm community to join us in praying for William's healing.  
About a month later, Valerie shared with me the results of her prayers.  Over the previous weekend, her dad had called unexpectedly and said without complaint or bitterness, "Stop praying for me and let me go!  I'm ready to die."  Valerie and her dad reflected, with difficulty, on his impending death.  Valerie agreed to stop praying for William's healing and asked others to do the same.  William died peacefully, later that week.  Valerie shared with me the new meaning of Jesus' non-directive prayer, "Thy will be done."   "It is difficult to let go," I remember her saying, "but there is peace in that, too."  
Both prayers "work," you might say; both kinds of prayer (directive and non-directive) can be parts of our ongoing conversation with God.  The question for you and me is when to use each prayer?  Carefully, courageously, continuously.
Fourth in a Series on Prayer and Healing
20 February 2014
"I have other sheep that do not belong to this fold.  I must bring them also, and they will listen to my voice.  So there will be one flock, one shepherd."  John 10: 16
I was rereading a formative book (for me) on prayer and healing, Prayer is Good Medicine, by Larry Dossey, M.D.  In the beginning of the book Dossey cites a series of scientific tests run back in 1975 by Spindrift, a group interested in prayer experiments, and in evidence that prayer is an effective tool in healing on all levels.  One of the interesting things Spindrift found was that "People from many religious traditions do equally well on the tests" set up to experiment with healing prayer.  Deborah Rose, a former vice president of Spindrift, is quoted as well, "We are not setting a trap to catch God in, we are opening a window to watch God work."  
What Spindrift experiments found was that God is listening to all people and all religious traditions when it comes to prayer.  For example, a person in need of healing was asked to pray for him/herself.  Others were asked to pray for the same person, and the person knew others were praying, also.  Still others were asked to pray for themselves and they thought they were praying alone - no one else was praying for them.  However, secretly, other people were praying for the person's healing.  Prayers worked in secret and openly.  These experiments were  carried out in several different religious traditions.  Regardless of the tradition (most outside of Christianity) healing was accomplished openly and in secret.  Prayer works, for all of us!  That's good news!
Jesus told us the same:  He is not an exclusive aspect of God but is God's outreach to all men and women.  "I have other sheep that do not belong to this fold," said Jesus.  When we forget these words and universal outreach we limit our God and our Savior.  We also limit our power to care through prayer.  When Jesus says in chapter ten, "I am the door,"  he wants us to "walk through" his power and help make a life of peace (through healing prayer) for ourselves and for all those around us.  
Prayer is God's "Come in!" to each of us when we knock on the door of Jesus' healing power.  Praying in the spirit of Jesus is our realization that prayer is not our tradition's exclusive road to God BUT the exercise of the love Jesus lived.  We're all on the same road; thanks be to God!    
Third in a Series on Prayer and Healing
6 February 2014
Immediately the father of the child cried out, "I believe; help my unbelief!"  Mark 9: 24
A tall rider recently boarded the bus, flashed her fare and without a hint of jocularity said, "Why didn't you bring a bus with more leg room?"  
I smiled and replied, "Only drivers with ten years of seniority or greater can make requests like that!"  I noticed that she opted to sit down in a crowded row of seats instead of taking any of the seats with more leg room!  At that time there were 4 other riders on the bus; she had her pick of places to sit!  Why did she seemingly contradict her own request?
I'm not sure why although she may have been protesting not having the newest of the busses in the fleet more often!  The newest busses have four fewer seats which, in turn, do provide more room for seated people in some parts of the bus.  
As I mulled all this over the parallels to our incomplete prayer life came into focus for me.  We often pray to God for healing, and then leave it at that.  We fail to take the next step.
That step is to become the hands and feet of answered prayer.  The father who brought his son to (first) Jesus' disciples and then (second) to Jesus gives us that direction.  He prays over his sick son, THEN he acts by seeking the help of other's.  When the disciples don't help he acts again and seeks Jesus' help.  Jesus asks him IF he believes in Him/Jesus as the answer to his prayers.  The father states his spiritual ascent to the Lord of lords but then confesses his problem - "Help my unbelief!"  
It's not that he doesn't have faith in God, but the father doesn't know what to DO next.  The answer is this: Live as though God has answered your prayer in the affirmative!  "If you CAN!"  Jesus' reply tells us that He is encouraging the father to believe that the presently comatose child will live - start thinking in terms of your future together!  Start being the hands and feet of Christ in your particular situation of concern.
Healing is the restoration of our shalom or peace which is the unity of our emotional, spiritual and physical being in cooperation.  Emotional and physical illness AND sin (once thought to be the same) are two forces that can break up that unity.  In our prayers, we are asking God to intervene in ways we cannot imagine or control to restore that unity within ourselves or within others.  To be certain, however, there are efforts we can make that will supplement that Godly intervention.  Those efforts are known as faith in action.
Charles, a retired school teacher in my first congregation had a working farm and many interests and hobbies.  He pursued almost all of them from a wheel chair as he was slowed (at the age of 65) tremendously by a terrible arthritis.  He and his wife prayed each day that he would be healed completely and all pain and problems associated with his disease taken away!  In the meantime he took aggressive medical treatments to combat his problems.  Time and again, however, as I would visit him and Ruth, he would say to me, "I'm moving forward!"  It only dawned on me years later that what Charles was healed from was not the literal, physical  problems of arthritis but the grief and anger he had had about being robbed of his normal retirement.  Charles was determined to live as fully as possible, in a joy-filled and thankful Christian faith!  He was living as though the unity of spirit-mind-body was real - because it was for Charles.  Arthritis didn't have the last word - Christ did (You Can!)  His prayers had hands and feet.  (I would hasten to add that Charles AND Ruth were a tremendous team that visited the sick in our parish, not only praying for everyone's recovery but bringing at least one very good meal to the affected household during each time of need.  They truly acted as a part of the vision of Christ for the world!)
When we pray for healing, how can you and I be the hands and feet of Christ in the context of that prayer?
O God, please help the homeless people in our community:  I will help feed and house my homeless neighbor.
O Lord, please bring peace on earth:  I will forgive the offenses of others and examine the hate I have in my heart for someone else.
Dear Savior, I pray for my cold or physical problem to go away:  I will seek medical help; follow the advice of my trained practitioner  eat a truly healthy diet; examine the unhealthful addictions that may affect my diet or general health; I will turn over my worry to Jesus.
We can't do everything, nor should we ever dare to act without the direction of the Holy Spirit.  But as we pray for healing, our hearts should be open to the way that God will certainly direct us to participate in the process God has in mind.  So, when you get on a bus don't just take the first available seat, look for a seat with leg room!
Second in a Series on Prayer and Healing
22 January 2014
With my voice I cry to the Lord; with my voice I make supplication to the Lord.  I pour out my complaint before him; I tell my trouble before him.  When my spirit is faint, you know my way....Give heed to my cry, for I am brought very low. Save me from my persecutors, for they are too strong for me. Bring me out of prison, so that I may give thanks to your name. The righteous will surround me, for you will deal bountifully with me.
Psalm 142: 1-3,6-7
Last week we reflected on praying about concerns beyond human life, like praying for dogs.  I must report that God has acted on our prayers and healed our dog; Georgia's ear is completely fine!  We are all happy and grateful to God for this.
Now I'm "sick as a dog" with a head cold.  I've missed two days of work.  The suffering associated with these symptoms are nothing compared to serious diseases other people are fighting, but my head and body and spirit do throb with real pain.  Psalm 142 offers three guides for healing prayer.
First, we should pray for ourselves.  "With my voice I cry to the Lord...."  We are good at praying for others but when the heat is on we often forget to pray for ourselves!  Suffering on any level blocks us from thinking about much.  When evil in this world isolates us from God or gets us to stop thinking about practicing our love in Christ, evil wins.  It is easy to allow physical suffering or deprivation to overshadow our faith.  But it doesn't have to be that way.  Praying for ourselves opens us to God's saving touch.  Don't forget to ask God.
Second, as we toss and turn on a bed or sweat out a fever or wonder when the pain medicine will kick in our prayer to God for our healing should be passionate, even forceful.  Not because we need to bully or impress God into action, but because our prayers ARE an encouragement to God for action:  When my spirit is faint, you know my way...."  You know my way; God, you know that my care on this topic is great!  This prayer is just not another thought but my express need to YOU, O God for help.  Passion, from late Latin, pati - to suffer - communicates the depth of our need when we are incapacitated.  God knows, then, the level of need.
Last, keep track of what happens and give thanks to God for the healing.  "Bring me out of prison, so that I may give thanks to your name."  The psalmist's prayer at this point is a metaphor; "prison" can mean any number of overwhelming problems.  But the results are literally true - give thanks to your name.  Giving thanks to God forms the end of every prayer.  In long term healing projects a prayer of thanks for healing is the vision we work toward.  When I was a college student I had a surgery in June which caused me to lie in bed, face down, for 7 weeks while I recovered fully.  I missed sports, dating, working, going out with friends, even going to church because I couldn't move out of the bed.  Part of what I prayed then was a prayer of thanks for God's work to date on me - believing that the healing process was progress:  rolling over without pain, thank you, God; sitting up and eating at a table, thanks, Lord; showering and wearing clothes, praise you, Father; walking, bless you, God; playing softball and riding inn a car, Give thanks to God for He is good; returning to classes, thanks be to you, O Lord!  When thanks is our prayer, we participate in the process of healing.  We begin with the end in mind:  God's victory in Christ over sickness and death.
Don't forget, pray for yourself and thank God while you're at it!  That's how God knows you mean what you say!
13 January 2014
First in a Series on Prayer and Healing
"You do not have because you do not ask.  You ask and you do not receive because you ask wrongly, in order to spend what you get on your pleasures....Draw near to God, and God will draw near to you."   James 4: 2-3, 8
My dog, Georgia, has been very sick lately with an ear infection.  Laura has cared for Georgia through several trips to the veterinarian, careful administration of antibiotics, and regular ear flushes which gets "The Peach" shaking her head and body like a flapper in a string-fringe dress! 
Georgia has made progress but isn't totally well.  One day it dawned on me, why shouldn't I pray for my dog to be healed?  
Why not pray for a dog to be healed; or a lost cat to be found; or for just the right pet to come and keep my lonely friend company?  Why not?
Some believers say that God is only concerned about human life.  So why bother God with something less than that?
Other Christians have told me that heaven, and God's saving grace are only for those who believe; animals aren't capable of formalized faith.
Still more people of faith have opined to me that dogs and cats don't pray and hence can't really participate in the conversation we have with God through prayers of all kinds.
Somehow, I've gotten it into my head and heart that I should be praying for my dog.  While there are many Biblical texts to examine on this point, James makes a good starting observation.  "You do not have because you do not ask."  That throws God's door wide open for receiving our prayers.  If James is to be believed, prayers of healing for a dog or any other animal are appropriate.  I don't want to see my pet ( or any other living being) suffer harm from disease or illness.  It's that simple
Why?  According to James, unselfish prayers (at the least) are always appropriate.  Asking in order to "spend what you get on your pleasures" is one measure of our prayer.  God's door is open wide for us to pray for others - all others; no restrictions!  In the process we draw near to God.  Could that mean we share in God's work of healing a broken world when we ask for the same for any part of creation?
Dr. Larry Dossey, M.D., author of  "Healing Words:  The Power of Prayer and the Practice of Medicine has written:  I found an enormous body of evidence (about prayer) - over one hundred experiments exhibiting the criteria of "good science," many conducted under stringent laboratory conditions, over half of which showed that prayer brings about significant (positive) changes in a variety of living beings.
It's not a scientifically based experiment, but Laura and I are praying for Georgia, now, for her ear to heal.  We're applying medicines, washes and visits to the vet, too!  We'll wait and hope for the best, just like we do with everyone else that we pray for.  
Whatever happens, though, we've stopped NOT ASKING God about things.  Nothing is too small for our God; that's a big relief for us and for Georgia, too.
December 16, 2013
Overheard at the Post Office
"Beloved, let us love one another, because love is from God.... Whoever does not love does not know God, for God is love.  God's love was revealed among us in this way:  God sent his only Son into the world so that we might live through him....No one has ever seen God; if we love one another, God lives in us, and his love is perfected in us.  
I John 4: 7-9, 12
Postal Patron:  I'd like to buy some Christmas stamps.  They CANNOT HAVE ANY RELIGIOUS IMAGES or message on them!
Postal Clerk (politely):  We have several images.  Here are gingerbread men, and here is a poinsettia and here also are snowmen.
Patron (intently):  I just can't have any religious imagery like the mother and child or even those poinsettias!  That is so against what Christmas is to me.  Are there other stamps?
Clerk (patiently):  Well, yes!  We also have a snowflake stamp....  
While the clerk holds up to the patron the different sheets of stamps, a man with a small dog walks into the lobby with a cup of coffee and a danish roll in a clear bag.  The man with the dog reaches around the postal patron, over the counter, and hands the coffee and danish to the clerk saying (jokingly):
"Here is your coffee and danish.  Don't say that I never gave you anything for Christmas!"
The clerk responded with a smile and a grateful tone of voice, "Thanks, Jack, now get back to what you do best - loafing!" 
"God's love was revealed among us in this way:  God sent his only Son into the world so that we might live through him."  (v 9)  Christmas is about God revealing God's love for all men and women, both young and old.  Living through him (Jesus) means that we should imitate that love; look upon others with generosity of heart, understanding and even forgiveness just as Jesus did, and still does with each of us!  If you strip away all the wise men, mangers, stars, angels, pageants and carols - Christmas still comes down to taking the time on December 25th AND all year around, to love our neighbor as we love ourselves.  Few of us will be called on to sacrifice our lives for many, as Jesus did; but you and I are all called on to love strangers and to love each other in simple and practical ways.  
That's why I was so struck by the contrast of the patron who was so focused on "purifying" Christmas that he missed a glimpse of pure Christmas - the man serving a harried postal clerk with obvious and appropriate affection!  We are so caught up in what we think or expect Christmas to be that we forget how simply the first Christmas came - it arrived in a stable and the love has spread with us, or in spite of us, ever since.  
If God is love, and I believe the Bible has it right, then the best present you can give is some form of that love.  It's a gift that fits every size, never wears out, and can be used by everyone.  God's love is the perfect gift for you, too.  
Let every heart, prepare Him room....  
4 December 2013
The Season of Advent
If Christ Returned What Would He Find?
When he was seven years old his mother died.  His father promptly abandoned him and  his brother in Philadelphia.  Initially cared for by an African slave and then by a distant cousin, John Hicks was apprenticed to a coach maker for the next fourteen years.  Hick's formative years weren't so good, but God wasn't through with him yet. 
Given a career track, John was free from want but in another way his problems continued.  A coach maker's shop was like the body shops of today.  Coaches were made and repaired and painted.  It was regular and hard work.  Hicks, ostensibly, was indentured to that work.  He mastered these aspects of the trade by day,  but blew off steam at night:  dancing, drinking and playing cards.  In his formative years and beyond he had twenty-two conversion experiences while attending the Quaker church: The Society of Friends.  He realized his sins but could not change through exertion of his will alone.  
In 1824, when Hicks was forty-three years old, Pennsylvania ended slavery within its borders.  The manumission of all slaves was a practical, and most obvious, application of the Quaker vision of peace and justice among all people.  This exercise of freedom for Christ had a profound affect upon John Hicks.  It was then that he refocused his energies into constructive expressions of the good news of Jesus Christ.  Hicks stopped his riotous living and became a preacher in a Quaker church.  He also painted the first of the seventy (or more) images of The Peaceable Kingdom based upon Isaiah's (11: 2-9) vision of the world when messiah returns (Vv 6-9 especially):
2 ...the Spirit of the LORD shall rest upon him, the spirit of wisdom and understanding, the spirit of counsel and might, the spirit of knowledge and the fear of the LORD. 3 And his delight shall be in the fear of the LORD. He shall not judge by what his eyes see, or decide by what his ears hear; 4 but with righteousness he shall judge the poor, and decide with equity for the meek of the earth; and he shall smite the earth with the rod of his mouth, and with the breath of his lips he shall slay the wicked. 5 Righteousness shall be the girdle of his waist, and faithfulness the girdle of his loins. 6 The wolf shall dwell with the lamb, and the leopard shall lie down with the kid, and the calf and the lion and the fatling together, and a little child shall lead them. 7 The cow and the bear shall feed; their young shall lie down together; and the lion shall eat straw like the ox. 8 The sucking child shall play over the hole of the asp, and the weaned child shall put his hand on the adder's den. 9 They shall not hurt or destroy in all my holy mountain; for the earth shall be full of the knowledge of the LORD as the waters cover the sea.
Hicks was living (rightly) as if he expected Jesus to return to earth.  When Christ returns what would he find Hick doing and being?  John Hicks would be found waging peace; using his freedom to make peace within himself and among all people he would know.
In this example of the seventy or more pictures Hicks painted of the "Peaceable Kingdom" we see Isaiah's vision illustrated in the foreground.  Animals and child(ren) relaxed and not threatening each other.  In the background we see an historical illustration of William Penn meeting the Delaware Indians, making the Treaty of 1682.  The background is light, representing the inner light of the Quakers.  The Land was purchased with a bolt of cloth, held by the men in hats.  Penn, with arms opened wide, indicates intentions of peace; just as the child in the picture has arms opened in the same attitude of acceptance and welcome.  Hicks wanted to chronicle the fact that the Quakers of Pennsylvania were the only colonists who regarded the Native Americans as humans.  In fact, the treaty they established lasted the for several generations after it was made and is one of the longest agreements of cooperation in American History.
Hicks also expressed his own sadness over his sinful past in the picture(s).  Some of the animals have a pensive, even sad look.  Hicks had been an argumentative and violent person in the past.  One of the animals looks directly at us and invites us into the past and future possibilities of Jesus' reign of peace.  
If Jesus returned today, what would he find you about?  The painting tells us that the "little child" Jesus will lead us from sadness to fulfillment.  It happened in real life with two societies making peace and with Hick's own conversion and renewal.  Hicks believed that Christ did come again, and took his hand, led him in painting and good works in this life.  If Christ returned would you give him your hand in peace?
28 November 2013
Surprised by Joy
"Stop the Bus! Stop the Bus, NOW!"
My trainer was not given to shouting but he raised his voice, and I stepped on the brake.  I was driving a 40 foot bus on the curvy roads behind St. Vincent Hospital.  An expert could have done such a thing but I was only driving a bus for the second day of my life.  The longer bus (drivers take a 30 foot bus on that route) had, naturally, a longer tail.  In keeping the tail out of the ditch or out of the other lane of traffic, the driver needs, at times, to "split the lane" or take some of the space in the oncoming lane.  The driver drives on or over the double yellow line which seems strange since we've all been trained (rightly) to stay on our own side of the road.  But on this overcast day in December I was "unlearning" my car driving and taking on the ways of safely driving a bus on curving roads.  
I wasn't doing very well.  I was in "their" lane but hadn't looked far enough down the road.  We were all surprised by an on coming car.  I stopped the bus and the car swerved around us.  However, my right-rear wheel was off the road and over the ditch on my side of the road.  The bus now lacked the momentum and traction to move forward.  Ominously, as we shifted inside the bus, it began to list sideways, into the ditch!  The trainer said, "Get off this bus!"  As we jumped out of the front door, the bus lurched completely into the swale.  We were stuck.
TriMet police were called, triangles set up and we directed traffic around the "beached whale" of a bus.  Everyone slowed and gawked.  Fortunately, between the two students and trainer and now white-shirted cop, they couldn't tell who put the vehicle in the ditch.  But I knew.  It was the man with a burning red face.
Eventually, a tow truck came and I was taken, by policy, to a drug testing facility where I (naturally) passed a drug screening with 0.00.  Of course, riding in the back seat of a TriMet police car only added to the humiliation and doubt of whether I would ever become an operator.
Joy is our response to God's triumph for us in winning victory over obstacles or in recovery of that which was lost to us.  C. S. Lewis described the feeling of God's activity in his early life as "stabs of joy."  When Israel saw Pharaoh's army drowned in the Red Sea, thus escaping slavery,  they danced and sang on the seashore:  I will sing to the LORD, for he has triumphed gloriously; horse and rider he has thrown into the sea.  The LORD is my strength and my might."  (Exodus 15: 1)  Joseph (Matthew 1: 18-25) rejects Mary as his wife until he learns in a dream that the child she expects is our savior.  "When Joseph awoke from sleep, he did as the angel of the Lord commanded...he took her as his wife...."  Joseph responded to God as God turned Joseph's bitterness and disappointment around, in joy; the recognition of God's saving action!  
After the drug test I took the train back to the garage.  As I arrived, the trainer and my driving partner limped back into the garage with a mud-caked bus.  We chatted and called it a day.  As I signed out and walked, head down, to my car, three other trainers approached me in the parking lot.  "How are you?", they asked.  I began to explain the bus ditching incident.  Greg stopped me.  "We heard.", he said.  Then he pulled out a navy blue TriMet winter cap and gave it to me.  Chris said, "We wanted you to have this; you'll make it; you belong!"  They hugged me and we all laughed.
As I drove home I wept for joy, no longer humiliated but surprised by joy.  It's not the cap or even the generous givers, but God's saving grace I remember every time I wear it!
Week of November 19th
Two Tools for your Prayer Toolkit
What is the difference between thanks and praise?  We tend to mix the two forms of prayer or speech.  Even the Bible itself uses the terms closely as in Psalm 100; 4, "Enter his gates with thanksgiving, and his courts with praise.  Give thanks to him, bless his name."  Based on this famous verse, as a child onward, I assumed that the two forms of prayer were the same.  However, thanksgiving and praise are set up to give us two different experiences with God.   
Thanksgiving is a response from one who is served to the one who serves.  The focus of thanksgiving is always on the one doing the thanking!  Thanks never changes the place of the one who has served.  Also, thanks often is a private transaction that may even be obligatory.  While we may thank someone publicly for their hard work, the effects of that act soon pass away.  I once knew a man, active in his church, who was always offended - primarily because "someone else wasn't thanked enough."  When I explored one particular protest of his with him it dawned on me (he never seemed to realize the truth within himself) that his protests were giving voice to his own feelings of being neglected.  Further, what he really wanted was not thanks but praise.
Praise zero's in on the one being recognized and has no agenda other than to elevate that person and recognize their greatness.  Praise is directed away from the giver of such.  Praise always has a public dimension and almost demands that others join in on the recognition.  Thanks has to be given almost always, for anything.  Praise is sincerely extended only when the one who serves has exceeded our expectations.  
The Bible certainly, and rightly, directs us to thank God for what God has done for us.  Here you and I can make our own lists of that but Psalm 103: 2, for example, begins to make a great list of reasons for thanks with these words - "...and do not forget all God's benefits...."  The list then includes forgiveness, healing, redemption, love and mercy, renewal and satisfaction in our daily needs.  Thanks for doing things, God!
Praise of God (and of his son, our savior Jesus) takes us to a new level of faith beyond thanks.  In praising God we recognize that the giver is greater than the gift and worthy of our devotion alone.  C. S. Lewis once wrote:  "I think we delight to praise what we enjoy because the praise not merely expresses but completes the enjoyment; it is its appointed consummation."  The Psalmist put it similarly:  "Let me live that I may praise you."  (Psalm 119: 175)
One of my favorite psalms is number 34 which begins:  I will bless the LORD at all times; his praise will continually be in my mouth."  What happens when we use both tools in our prayer-kit?
We develop spiritual health.  Praising builds up God (and others).  Our praise lifts us as well as we acknowledge God's greatness or the excellence of others.
We share joy.  Joy is gladness for others, gladness that God is with us.  Our praise makes us notice all the reasons around us to be glad for others, and hence, glad for ourselves.  Our spirits soar when we spend time just praising God.
Praising helps us to notice what God is doing around us.  Thanks to God culminates in praise for who God is:  "...A great king above all gods."
People also like to be near other people who praise.  When we take the time to recognize the work, faith, care and gifts of other people, without thought about the benefit to us, a spiritual magnet draws us together - lifts us up and builds us.  God affirms us through Jesus' redemptive act of love on the cross; tells us that we are worth the sacrifice and hopes, through that act, that we will respond in love.
With God, and the people around us, it is the same in this way:  Giving thanks is a first required step in the relationship.  Giving praise (rejoicing in another's greatness) is the sign that we believe the other is worthy; that elevates everyone involved.  
This Thanksgiving you can thank the one who made the turkey.  But try praising for a minute or two that one for how and why they made the turkey.   Then try it out with God: praise of God shall continually be in my mouth; taste and see.
Week of November 14th
Just a Little Reminder:  Don't be that Guy.
Then one of them, when he saw that he was healed, turned back, praising God with a loud voice.  He prostrated himself at Jesus' feet and thanked him.  And he was a Samaritan.  Then Jesus asked, "Were not ten made clean?  But the other nine, where are they?  Was none of them found to return and give praise to God except this foreigner?  Luke 17: 15-18
The teenaged young man flashed his monthly youth pass so quickly before my eyes that I could only tell what color it was - purple.  Before I could think to ask anything his brown hoodie had swept past me and was taking a seat.  The next man raised his honored citizen pass and let his hand hover until I nodded.  I realized then that the second pass was a legitimate November pass - a darker purple.  It dawned on me that the first rider had counted on the shadows of the evening and his sleight of hand to fool me into thinking that his lighter purple October pass was a valid document.  
I called the young man forward, reinspected his pass and said politely but firmly that he needed to pay a fare since his pass was invalid.  The young man refused to pay and left the bus.  As I turned to greet the next rider, a woman already aboard the bus asked me, "If I buy that young man a ticket, will you accept it?"  "Of course," replied I.
Sometimes the front bus windshield is like a television screen with dramatic scenes fit for the Emmy Awards.  The woman caught up to the young man and took him by the arm across the tracks to the yellow and blue ticket vending machine.  She swiped her credit card and handed a ticket to the fellow.  Together they walked back to the bus and boarded.  As the woman came on I spoke a word of thanks and praise to her.  Then the young man came on and according to his custom waved the card in my face.  
I noticed that he had a weekly pass! I said, "Don't bother showing me; Show that woman some love; give her a hug!"  He immediately turned toward her and said, "Oh, yeah!  Thanks lady!"   
I was flummoxed.  I couldn't move the bus until I had taken a deep breath and gotten my head around what I had just seen and heard!  A woman took a stranger in a tough spot, spent eleven dollars on him, walked with him about 30 yards to and from the bus ticket vending machine, and in that time the young man NEVER spoke a word of appreciation until he was prompted (by another stranger!)  
"He prostrated himself at Jesus' feet and thanked him."  That is the ideal for all of us.  Give thanks, especially when someone has clearly helped or blessed us.  Giving thanks is showing appreciation to another for their gift to us.  Giving thanks is easy because the focus is on us, ultimately.  We thank the waiter or saleswoman because they have served US.  We appreciate what has happened for our cause.  We give God thanks for the same reasons.  God is good (to us) all the time!  Who couldn't respond to that proposition?!  
And yet we don't consistently remember to speak thanks to those who have helped us.   My brother John, from Ohio, recently visited my wife and me.  One afternoon he rode on my route and observed life on the bus.  At the end of the shift he commented that he was touched by the number of riders who spoke a word of thanks to their driver when they left the bus.  I estimated that at least half the riders, it seems, speak a word of appreciation to me, their driver.  Those words are uplifting and worth everything to me.  But we agreed that it was also interesting that other people exited the bus without a word of acknowledgement.  Adjusting for those who may not have been served well by their driver, a large percentage of folks still didn't seem to care.  Those calculations are not as exact as the "one in ten" who came back to acknowledge Jesus, but it causes me to think:  How often do you and I just move through life without acknowledging those who help or serve us?  How often do we really thank God? 
For me, the incident of belated thanks is a cautionary tale.  My "take away" is the mirror effect:  The story causes me to think about my thankfulness and how consistent I am in expressing that!
I'm grateful to God, in Jesus Christ, for giving me a chance to try again and live the life He's called me to of grace and gratitude.  Starting now I will speak a 'thank you' more liberally than before to those I work with and serve.  Who can you thank today?
Week of November 4, 2013
Guides in our Prayers
Start with God--the first step in learning is bowing down to God; only fools thumb their noses at such wisdom and learning. 
Proverbs 1: 7 (The Message)
I hadn't seen his ebullient face for weeks and assumed he had moved.  But there he was, professionally dressed but slumped shouldered and down-cast, climbing the steps before me.  He had told me on a sweltering bus this August that he was moving to Boston in mid-October.  He was painting "yard sale" signs and checking on line about apartments in the Boston area.  His new post would have him looking at test tubes and  beakers on Bunsen burners as a part of a research department at a university in the city.  Then he was excited!  In the cool, October air, in the dark morning, all that was changed. 
I greeted him with an enthusiastic, "Hi! When are you moving?!"
"SSHHH!  I got a bad reference and the whole deal was cancelled!", he replied.
Usually talkative, the man made this particular trip in silence.  As we pulled up to his usual stop, he approached me, explaining his disappointment, and holding out some hope for a second professional opportunity.  Without thinking, I asked, "Could I pray with you about that?"
Because he was, literally, the last rider on that trip, I stopped the bus, left my seat and prayed briefly with this fellow.  He was completely receptive though we were little better than friendly strangers.  As we held hands and bowed our heads, I spoke a word of thanks for the fellow's strengths and abilities and asked God to heal his disappointment, grant him patience, and to open the appropriate door for him professionally.  Amen.  He thanked me and walked off the bus.
One week later I saw the rider again and he was happy in his greeting.  "I've got a new opportunity," he said!  "Your prayer really helped.  God is good!"  
"All the time!", I replied.
Through my happiness for this rider, one thought dawned:  We have difficulties with prayer, sometimes.  We don't focus on God but get lost in details, as important as they may be.  Perhaps we're interested only in ourselves or are unsettled by our sin and do not even ask for what we do need; or we don't' even bother to pray because we think the need is hopeless.  
In these cases we need first, to focus on God because prayer is about God; our responding to a God that is always reaching out to us.  If we're listening, learning, attending to God, our prayer will be more than asking (although asking is important).  Our prayers will be a running conversation with God about what is happening in this life.  
Second, we need a guide or shepherd to help or remind us occasionally that prayer is about God.  The proverb above reminds us that when we keep God in mind, in all things, we are living as we were designed.  The rider was wise to pray with me, not because I am "great" at prayer or know the right words to say.  Prayer is not magic.  The rider truly learned (again, I believe) to turn to God in a time of need and stay tuned with God for the next steps to be taken.  That is wisdom, which works a lot better than panic.  When the rider said, "God is good," he was not only making an affirmation but indicating our human need for God's love and care.  That's not a bad thing.  It is a wise thing.
May you meet a shepherd or guide at just that time of need.  May you also be the same to those around you.  It's about God, after all; that's good news.
Week of October 28, 2013
Believing in God's Provision
Isaac said to his father Abraham, "Father!"  And he said, "Here I am, my son."  He said, "The fire and the wood are here, but where is the lamb for the burnt offering?"  Abraham said, "God himself will provide the lamb for a burnt offering, my son."  So the two of them walked on together.  Genesis 22: 7-8
As my bus pulled up to the stop I noticed them huddling together.  She looked suspiciously over her shoulder at me and I saw the man mouth the words to her, "Do it right!"  It seemed as though they were conspiring.
The bus squeaked to a stop and she got on first, walking arrogantly past me; saying not a word.  In these cases I look to the second one that boards to offer fares for both.  The man smiled and politely returned my greeting.  He said, "I'd like one adult fare and one honored citizen fare, please."  We spoke together, "That's $3.50!" and he paid three one dollar bills.  then, suddenly he felt all his pockets and said, sheepishly, "I don't have the last fifty cents!  Will you still let me ride?"  
"Of course you may ride!," I said.
The other riders now clambered on and we roared down 185th Ave toward the next stop.  There, the couple exited the bus and three students began hauling their giant roller bags up the steps, wheels clunking against each step.  They flashed monthly green passes as they went by, breathlessly.
Suddenly, from over my right shoulder a woman began shouting in my ear, "You short-changed my husband!"  Turning, I saw the young woman who had arrogantly walked past me at the last stop, now turning red in the face.  As the roller-bag people lumbered past, she continued, "He bought two all day passes and paid with a ten dollar bill!  You've cheated us!"
"The rider paid with three ones and asked for two two hour tickets, Ma'am.", said I.
She repeated her claim, yelling all the louder.
At that point I suggested that I call the police to "adjudicate" the issue.  She stopped her yelling for a moment then continued, asserting that she wanted change and new tickets!    She sat down on the steps of the bus entry.  I called dispatch with the "not so urgent" call for help.  After about 30 seconds, the husband called the wife off the bus, thus ending the sit in and we sped off.
I was shaking in the driver's seat for the next 30 minutes!  I'd never had some one yell into my face or try to humiliate me with false accusations.  My heart was pounding, face flush and I was at once angry and hurt over this incident.  And the mystery to top it all off:  This elaborate ruse was for two day tickets?!  With all that hurt on my heart I continued down the road; now, nearly crying.
"God...will provide...."  Abraham makes a statement of faith because in reality, he's been told to do something different with young Isaac.  God providing a substitute sacrifice for Isaac hasn't been mentioned, but Abraham believes God will deliver.  And God did deliver.  As Abraham bound his son and set him on an altar, he noticed a ram caught in a thicket of thorns.  God provided a substitute sacrifice and Isaac was saved.  Say what you will about this story, God does provide for Abraham's greatest and specific need.  Abraham and Isaac continue on their way, in spite of the difficulty, in this faith in God's gracious care.  Can we do the same in faith?
Not quite fifteen minutes later we pulled up to a stop and a woman with a shopping cart full of groceries boarded.  She wore a threadbare blue jacket over a sun dress which she must have recently changed the oil in her car with.  Her mangy dog, no bigger than a loaf of bread, jumped on the bus first as she struggled with the cart of bags.  Instinctively I reached out for her leashed dog; she tossed me the leash and the once white, now dish-water gray mutt toddled over to my seat.  I reached down and began to pet the dog who, in turned, licked my hand and wagged her tail.  It took about 30 seconds for the woman to haul her cart onto the bus and frankly, it seemed as though time was standing still.  My heart stopped pounding and somehow, my anger and hurt vanished while I leaned over, held the dog and felt her love.  
What's this puppy's name?
Bailey!
Thank you, Bailey!  You're a good dog!
As I drove down the road I felt whole again and prayed a prayer of thanks for Baily and her owner; AND a prayer of thanks to God for providing just the two riders I needed to pick up that afternoon.  In Hebrew the punchline of the story says the LORD will take notice (provision in the material sense is not even mentioned) - we are called to believe that God notices us and cares actively for us.  God is already taking care of it.    
You can believe that? 
Week of August 26, 2013
A Word on Prophets and King
A prophet (from the Bible and today) is a man or woman, appointed by God, who tells society, sometimes passionately, what the will of God is for their particular time, and tells what the consequences of obedience and disobedience are to that will.  Further, a prophet does not predict the future but at times reveals God's vision, plan or "dream" if you will for us.   The prophet uses metaphors and images from dreams and visions, not timetables, to illustrate God's will.
We often want prophets to tell us the future or about the end of time, but they cannot.  Jesus told us that "...About that day or hour no one knows, neither the angels in heaven, nor the Son, but only the Father.  Beware, keep alert...."  Mark 13: 32
Prophets, then and now, tell the city or nation or people of their day what God wants them to be and do.  For example, the prophet is an iconoclast to religious institutions:  To what purpose does frankincense come to Me from Sheba, Or sweet cane from a distant land?  Your burnt offerings are not acceptable, Nor your sacrifices pleasing to Me.  (Jeremiah 6: 20)
The prophet is also an advocate for the poor and a check of the power of the wealthy:  The LORD enters into judgment with the elders and princes of his people:  It is you who have devoured the vineyard; the spoil of the poor is in your houses. What do you mean by crushing my people, by grinding the face of the poor?  (Isaiah 3: 14-15)
Prophets of every age call for the personal integrity of every citizen, demanding a clear connection belief and action:  There is no truth, no love, and no knowledge of God in the land; Swearing and lying, killing and stealing, and committing adultery, They break all bonds, and blood touches blood. (Hosea 4: 1-2)
And prophets also offer God's redemption for people to receive:  Have I any pleasure in the death of the wicked, says the Lord God, and not rather that he should turn from his way and live?  (Ezekiel 18: 23)
Also, prophets hold out a vision of hope for people to live toward:  Every valley shall be lifted up, and every mountain and hill be made low; the uneven ground shall become level, and the rough places a plain.  Then the glory of the LORD shall be revealed, and all people shall see it together, for the mouth of the LORD has spoken.  (Isaiah 40:4-5)
If you want to start a far-ranging discussion ask this question to those around you.  Are there prophets speaking today?  Who are they?  Hate him or love him, one answer seems to be The Rev. Dr. Martin Luther King, Jr.  Consider this part of the "I Have a Dream" speech Dr. King delivered on August 28th, 1963:
"I have a dream that one day every valley shall be exalted, and every hill and mountain shall be made low, the rough places will be made plain, and the crooked places will be made straight, and the glory of the Lord shall be revealed and all flesh shall see it together.
This is our hope. This is the faith that I go back to the South with. With this faith we will be able to hew out of the mountain of despair a stone of hope. With this faith we will be able to transform the jangling discords of our nation into a beautiful symphony of brotherhood. With this faith we will be able to work together, to pray together, to struggle together, to go to jail together, to stand up for freedom together, knowing that we will be free one day."  (MLK, Jr.)
King quotes directly Isaiah's message of God's restorative power for a nation oppressed and exiled in Babylon.  King knows that the hope Israel once experienced from this message was (and is?) the same hope of healing and restoration black and white people of his day need to hear to (continue to) fight against the apartheid that gripped America then.  The speech is compelling to listen to today, 50 years later, because King delivers it in the faith that the message, the dream, the vision IS TRUE.  The dream is God-inspired.  Certainly, no one goes on a mission as a civil rights movement, speaking truth to power, believing in anything less than a God-breathed message.
King could be directly indicting as Jeremiah often was.  "A nation that continues year after year to spend more money on military defense than on programs of social uplift is approaching spiritual doom."  Prophets are dangerous to political power because they expose the hypocrisy and vacuous nature of societal leaders who are pledged to keeping the status quo rather than being open to God's just vision for all people.  Prophets are not universally popular with "the people" because prophets expose the people's tendency to idolatry - the urge to honor something other than God as ultimately valuable.  Consider that when MLK was murdered by a snipper on April 4, 1968 he was aiding sanitation workers in Memphis who were striking not for better wages but for safer working conditions.  Two black workers were crushed to death in a garbage truck because the white driver would not let them sit in the cab of the truck during a rain storm.  They took cover in the back of the truck, the driver forgot his colleagues were in the compartment for garbage and turned on the compacting aspect of the truck, crushing the two black men to death.  King and his Southern Christian Leadership Conference knew that civil rights were nothing without attendant economic opportunities.  If you will, this prophet was not the first nor will he be the last to be "put away" because they are too close to the truth about leaders, powers and followers of the same that ignore God's vision.  
What is the good news about prophets and this one in particular:  Martin Luther King, Jr.?
First, that the prophets tell us what matters today, not tomorrow.  They are practical guides that meet us where we are in offering guidance on how to live faithfully for God.  Moses, the preeminent prophet gave us the ten commandments.  Micah made that message even simpler:  ...Do justice, and to love kindness, and to walk humbly with your God. (Micah 6: 8)  Among King's practical spiritual counsel is this:  We must accept finite disappointment, but never lose infinite hope.
Second, that the prophets' words always affirm God's mission to us.  Jesus exemplified the entire prophetic tradition when he taught:  ...You shall love the Lord your God with all your heart, and with all your soul, and with all your mind and with all your strength....You shall love your neighbor as yourself.  (Mark 12: 31)   King taught similarly when he said, "I have decided to stick with love.  Hate is too great a burden to bear.
Last, a prophet's words come true; this is how we tell a false prophet from the appointed and anointed.  Consider Isaiah's words to Israel before they left Babylon and returned to rebuild Jerusalem:  If you remove the yoke from among you, the pointing of the finger, the speaking of evil, if you offer your food to the hungry and satisfy the needs of the afflicted, then your light shall rise in the darkness and your gloom be like the noonday. The Lord will guide you continually, and satisfy your needs in parched places, and make your bones strong; and you shall be like a watered garden, like a spring of water, whose waters never fail. Your ancient ruins shall be rebuilt; you shall raise up the foundations of many generations; you shall be called the repairer of the breach, the restorer of streets to live in.  (Isaiah 58: 9-12) In some ways we are still working on following those words - We shall overcome one day. 
Anyone claiming to be a prophet or who speaks prophetically is not interpreting the recent past or predicting the future coming of the day of the Lord.  They are speaking good news, building people up, telling the truth about the God of love and God's redeeming love for each of us.  As Jesus said of all prophets of His ilk when commenting on an unaffiliated person who was healing in his day:  Do not stop him; for no one who does a deed of power in my name will be able soon afterward to speak evil of me.  Whoever is not against us is for us.  (Mark 9: 39-40) 
See if you can spot and learn from one of God's prophets today.
.
Week of August 19th
For Such a Time as This
Mordecai (replied) to Esther, "Do not think that in the king's palace you will escape any more than all the other Jews.  For if you keep silence at such a time as this, relief and deliverance will rise for the Jews from another quarter, but you and your father's family will perish. Who knows? Perhaps you have come to royal dignity for just such a time as this."  
Esther 4: 13-14
It is difficult to know when to keep silence and a time to speak.  Ecclesiastes tells us (3:7) that there is a time for both.  How do we know or learn the difference?
While splashing down Powell Boulevard one rainy afternoon I stopped to pick up several riders stranded by high water.  The hard rain had overwhelmed storm drains and was overflowing the high curbs!  The bus was truly like a boat with a wake which threatened to splash the intending riders if I didn't ease up to the stop!  Opening up the doors the riders jumped over the small river, one by one, into the now crowded "lifeboat".  
The last rider hesitated, then jumped onto the bus.  He showed his fare then took a place to stand next to me.  Then, without warning, the man said repeatedly in a loud voice, "This f***ing bus is crowded!"  I must admit I don't pay a lot of attention to what people say on the bus, but this declaration was not only obnoxious but was said in the presence of a family of five (mom and dad plus children aged about seven, five and three) seated directly behind me.  I looked directly at the man and spoke quietly but firmly, "Shut up!"
The bus hadn't moved an inch yet because my attention was focused on the rage in his eyes.  Admittedly, my remark wasn't the most polite and I could see that he was searching for a response.  I was ready for his worst when he repeated the remark.  I replied evenly, "This is a great and free land.  You don't have to ride this bus if it is too crowded!"  Then, I opened the doors, and folded my arms and waited.  
The man's expression calmed and he rode without further incident.  When he exited later, bus still floating along, he quietly apologized to me.  Which I warmly accepted.  
Drivers are shot, knifed, punched and spit on all over this nation (and I presume, the world) over smaller provocation.  It dawned on me how imprudent any response was, insisting upon polite speech.  
Yet, the story of Queen Esther's imprudent intervention seems to push us (sometimes) toward that daring option.  Esther was a jewish member of King Ahasuerus' harem.  Everything was going well for Esther until a pogrom against the Jews of her nation was plotted by Haman, the King's top officer.  While Esther clearly had a relationship with the King, she could not easily visit or influence him because of court protocol.  Time was of the essence between the discovery of the plot by Esther's uncle, Mordecai, and the day of (literal) execution of the mass killing plan.  Esther had to violate the court protocol and see the King, even though it could mean certain death for her importunity.  Mordecai's words quoted above are the assurance of God's guidance in the matter.  "Who knows? Perhaps you have come to royal dignity for just such a time as this."  God has appointed that you speak out.  It won't be easy, but God is with you.
Queen Esther spoke to the king, who received and acted positively on her information.  Haman was stopped; Mordecai was vindicated; God's will was accomplished.
And what about you and me?  First, Esther teaches us to have a conscience.  Knowing, right from wrong, good from evil, is a test of our humanity.  We truly live as we feel and think specifically about what we observe, rather than ignore it all.  Esther could not ignore the warning of her uncle although she lived a protected, a privileged life.  She heard the God's call and formed an answer.
Second, Esther's answer was made in faith.  When we act or speak, we must believe positively in what we're saying because what may follow will test our resolve.  Believing in and doing what is right, good, positive or God-directed is what sustains us in difficult times.  For example, in the movie The Butler, son of the butler, Louis Gaines (David Oyelowo) and his friend Gina (Adriane Lenox) attend a class at Fisk University devoted to preparing African-American students for direct action against a segregated lunch counter.  The training simulates the verbal and physical violence the protesting students will face.  The training centers on focusing on the beliefs of justice and equality that brought the students into participation in the first place.  As the movie follows these students into action and chronicles the violence and abuse they receive from Euro-American citizens and police, their sustaining faith is evident in their non-violent response.  Connecting to God's sustaining power, directly or indirectly, helps us survive the backlash of the world.
Last, like Esther, speak specifically and directly to one.  The queen spoke to the king; the evangelist Luke writes only to Theophilus; mass marketing ads are addressed to you; Dr. King wrote his letter from the Birmingham jail to one group, eight local Clergymen who had written to him an open letter; Paul writes to one church at a time.  The idea is that we don't have to reach the entire world or convince all people with our voice, at once.  We only need focus with all our enthusiasm or sincerity or passion or intellect or evidence on one person or one small group.  Speaking to one is the most normal, comprehensible and personal act of all:  This is what I know; or This is what I have to offer, please listen.  It is the way God speaks to each of us, individually, directly, specifically, personally.  It is the way we pray - directly to God.  Why not also speak to one another with the same convincing focus?
Breaking bad news or telling an important story or demonstrating a commitment or exposing a hurtful secret or speaking truth to power requires courage, faith and an articulate message.  God appoints the times and stands with us in the places so that it is not we alone who act, but Emmanuel, God with us in the action.  It is why prophets and heroes of the faith like Queen Esther faced difficulties in being heard and are remembered even now for their messages:  They stepped forward in just such a time as this for God's action. 
Week of August 5, 2013
White Lines
Jesus said, "I am the way, and the truth, and the life. No one comes to the Father except through me."  John 14: 6 
Like any disciple, driving students learn the maxims of the road from whit-shirted teachers.  Students are successful as they remember what their teacher prescribes, and practice the same each day.  Four of those truths universal to bus driving are:
Check your mirrors.
Protect the right side of the bus.
Scan!  Scan!  Scan!
Watch your tail (swing).
Each day as a student I found my lane, made my turns, greeted and picked up riders I also repeated these gems silently.  Of course, I didn't move my lips!  I didn't want riders to think I was from Mars!  But I used those rules as positive self-talk to help me remember to position my bus properly throughout the trip. To the extent I practiced (and practice) these words of guidance, the drive has always been (relatively) easy.  
The dramatic challenge in town to these principles has always been taking Sheridan Street which snakes around two curves, then through a small tunnel and enters the narrowly formed Ross Island bridge; and finally home to the Center Street Garage.  To drive the S turns properly one must look ahead and to the right side so that the bus hugs the white line dividing the lanes.  Keep in mind that these lanes are packed with cars.  Simultaneously, the driver looks out their left-side mirror to make sure the back tires don't hit the curb nor the tail hit the concrete walls of the tunnel.  All this is done while cascading down this cataract of traffic at 25 mph!  It is impossible to make both views AND look down the road.  Eventually, I've realized, I have to trust the white lines that divide the lanes.  As I follow that line each trip, my bus is in its lane, safely moving with through rush hour.
Jesus said, "I am the way, and the truth, and the life. No one comes to the Father except through me."  (John 14: 6)  On the last night of his earthly life Jesus packed as much teaching as he could into his disciples' hearts and minds.  What did Jesus mean by this metaphor?  Some modern Christians have interpreted this verse as an exclusive doctrinal claim by Jesus, i.e. doctrinal adherence to Christianity is necessary for salvation.  This is standard teaching in many parts of Christianity.  But as I look around the world and around my neighborhood, I see plenty of people who seem to be living God's will in their lives every day and living the love Jesus commanded us to share.  Are they damned to eternal hell because their religious tradition doesn't focus on Jesus of Nazareth?  
I believe Jesus was making not a doctrinal claim but extending an invitation to imitate and follow his example of living, loving and serving God and our neighbors.  This pattern of community stands out among the many opportunities offered by itinerate philosophers in Jesus' day.  Jesus says in the midst of the crowded marketplace of ideas and philosophers:  Imitate not my mind, nor my doctrine, but my way of living that you see in my love and reconciling grace.  You've seen me share all that I have with you; join us and do the same."  If you live like Jesus, you will be his disciple:  forgiven and loved.  That is the "white line" Jesus lays down for us; not one of doctrinal correctness but a clear path of how to follow him.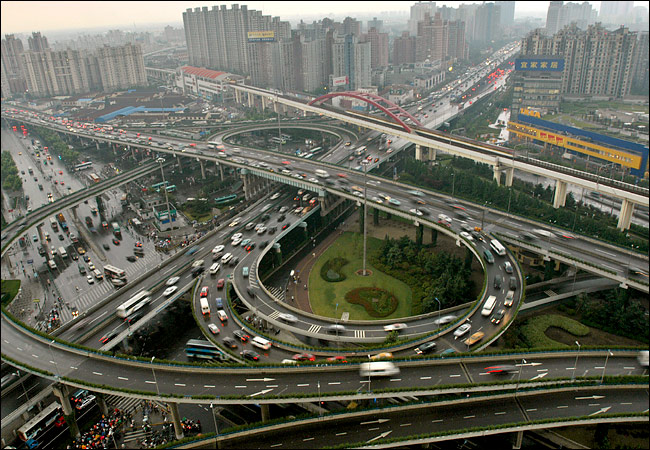 I remember attending an ecumenical men's prayer breakfast in the small Ohio town at the beginning of my ministry.  I'll never forget the hurt and embarrassment I felt when a man blurted out over his plate of pancakes and eggs, "No infant baptism is valid.  God only saves through believer baptism!  All else is pretense!"  As I struggled NOT to express an opinion at that time it dawned on me how doctrinal arguments within Christianity (and within every spiritual tradition for that matter) will always drone on.  These are the arguments that dogged Jesus about healing on the Sabbath day or associating with a woman or a man who was "unclean".  Jesus seems to have a different way in mind when he calls himself a path:  follow me in where I walk and what I do.  It's that simple; it's that clear. 
Regardless of what I believe about a bus or public transportation, moving people depends on my focusing on the line so that the tail will fall into place.  
Scan for the authentic act of love and you'll receive the energy and imagination to merge into the traffic of life.  Trust (literally) "the path" and you will have Jesus helping you along every mile of the way.  
Driving a bus is a matter of seeing where one needs to go.  Jesus, as LIGHT and WAY makes that journey clear for anyone who wants to follow.  It's not so much a life of ideas as it is a life of faith in action by love.
Week of July 13
Looking for Grace in a Disappointing Decision
"You have turned my mourning into dancing...so that my soul may praise you and not be silent.  O LORD my God, I will give thanks to you forever."
Psalm 30: 11-12
"Even though on the outside it often looks like things are falling apart on us, on the inside, where God is making new life, not a day goes by without God's unfolding grace."   II Corinthians 4: 16
Once in a great while I am truly surprised by events.  The jury decision to acquit George Zimmerman, July 13th, of (either) second degree murder or manslaughter against unarmed Trayvon Martin was amazing and hurtful to me.  Views of what the jury could have decided abound, and is beyond the scope of this devotional piece to consider with any precision.  I am reminded of the words of Dr. King, written from a Birmingham jail cell:  Injustice anywhere is a threat to justice everywhere.  I am suspicious that the jury has gotten it wrong, and for that I mourn.
I mourn as well, for the loss of a young man, shot senselessly, without sanction by any legitimate municipal or state authority.  I mourn for the parents of Mr. Martin who lost a child; an unspeakable grief to bear in any set of circumstances.  I also mourn for George Zimmerman who realizes somewhere within himself the awesome weight of responsibility of carrying a gun and (mis-?)using it.  And I mourn for the unwanted notoriety that has accrued to Mr. Zimmerman; fairly or unfairly that infamy will dog him for a long time.  I mourn for friends and neighbors who are also upset by the apparent injustice of this decision.  I finally mourn for those neighbors and colleagues who rejoice in the decision, decrying Mr. Martin as "a thug" and the shooting as, therefore, justified.
What are the answers to this grief?  Perhaps no immediate answer is available save to acknowledge sadness and look for hope.  The above cited Psalm 30 and portion of Paul's Second letter to the Corinthians may guide us.
First, It is right to give voice to suffering and grief.  I was interested in an article that reviewed the comments of Tracy Martin (father) and Sybrina Fulton (mother) of Mr. Martin.  When asked by the interviewer if the ersatz apology issued by Mr. Zimmerman's parents was acceptable, Tracy Martin responded that the question "was hard and fair."  He then continued that "There was no winner in this (situation)...Obviously, we are devastated more."  The interview ended with these words from Tracy Martin:  We continue to pray that we'll find peace and strength to forgive."  These parents are courageously giving voice to the Psalms of lament.  Bible Scholar Walter Brueggemann writes that the psalmist puts emotional questions and even accusations into the public square (We wish the jury had known our Son....) "and asks the most unbearable questions" of God and of us.  When Paul writes that "...on the outside it looks like everything is falling apart on us...." he is sharing his pain with the church.  The Martins are also sharing their pain and faith with our society.  Those voices are prophetic voices; communicating something of God's invitation to us all to listen and reflect and grow.  To the extent that citizens reflect together on this tragedy, nonviolently, we do have a chance to grow together or heal a broken society.   A good sign of how that healing has or will progress will be told by the timetable for Mr. Zimmermann to come out of hiding and to indicate, with words and deeds, his spirit of reconciliation.
Second, death is not the end even though it would pretend to be.  White folks, generally,  have moved on to the next topic in the news cycle but the Black community continues to reflect on the verdict and what it means.  Mr. Martin's parents, for example, have begun a foundation in their late son's name to "increase public awareness of all forms of racial, ethnic and gender profiling, educate youth on conflict resolution techniques, and to reduce the incidences where confrontations between strangers turn deadly."  Remembering not only Mr. Martin, but the issues surrounding his death (gun violence, racism, racial profiling) as well, offer us a chance to move from the silence of death to the praise (v 12) that energizes us in living God's intent for waging peace.  
My hope is placed in Jesus' mission to reconcile the world to God, in love.  Jesus' death on a cross was not intended, as theologian Chun Hoi Heo has written in Multicultural Christology, "to create a generic community of cultural homogeneity, but rather to reconcile us to God and to each other" through our growth in respect and realization of interdependence.   In those realizations of our interdependence do we experience God's unfolding grace.  
Live into hope the blind shall see
With insight and with clarity,
Removing shades of pride and fear--
A vision of our God brought near.
(Live into Hope)
July 2013
Courage and the life of faith
"Be watchful, stand firm in your faith, be courageous, be bold.  Let all that you do be done in love." 
I Corinthians 16: 13-14
Courageous people are difficult to identify.  Sometimes they look like fools in their actions, initially, but their hearts tell the tale.  Courage (from Old French having "much heart") is the motivating factor for people who go out of their way to get in the way of events and happenings.  An opportunist won't risk life and limb for profit because they can do the risk calculus much more effectively than a Mench (humanitarian in Yiddish) who gets involved in a situation because they are called to respond to a desperate or immediate need.  A courageous man or woman doesn't do "risk/reward" analysis.
The Apostle Paul writes about this kind of willingness to be involved in spite of the risk when he charges the Corinthians in these final verses of his first letter.  Facing life, "with much heart" or feeling for what is right, is difficult.  Right or wrong, people like Bradley Manning and Edward Snowden have paid a price for their courageous acts of whistle-blowing.  Spiritually, Paul calls believers to "stand firm in their faith" in the One who stands with us in all times and places.  It is only through that belief that Jesus will be with us, that we can move through the storms of life - not with ease, but with the confidence that in life and in death we are the Lord's.  
Courage makes me think of the time my brother, Butch, told a big football star from our high school on the sandlot to "shut up" when he called our African-American friend "that N-!" one day.  The big football star, surprised, did indeed shut up when his racism was challenged.
I think the courageous life is embodied by my brother, John, when he worked late nights at a Sunoco gas station and was confronted by a knife-wielding robber.  Holding the evening's proceeds under one arm, he waved a baseball bat and threatened his own mayhem if the robber came one step closer.  The young punk left and this loyal and brave employee saved the business for a day.
The stories of soldiers, sailors or marines in combat or firefighters and police in the line of duty, facing danger, are legion.  But so are the unsung stories of parents who "with great heart" sacrifice real parts of their lives and energies for their children; teachers or nurses who intervene in a complex situation of life and death for a young person; citizens on a plane who overcame the hijackers to "steer" the plane away from the planned evil and into a personal catastrophe which saved countless lives; the first Christians who said the name "Jesus" when the expectation was "Caesar is Lord," on pain of death.  Living with great heart is an act of faith.
When I was a doctoral student, living on the University of Chicago campus in Hyde Park, I witnessed a thug knock down an old woman, steal her purse and run away.  I was on my way to a important and mandatory dinner meeting with classmates and our advisor.   I stood for a moment thinking whether or not I wanted to get involved.  Somehow I turned for a moment and saw a group of firefighters at Station #55 out in front reacting to the same incident.  My eyes met one of the men's in that group.  We both began to run after the thief.  The details of the chase and subsequent apprehending of the young tough are dramatic but the main thought is this:  I began to run because of the courage of the firefighter who moved first; "If he's going, then I'm going," thought I.  If God is for us, who can be against us.
We can't solve every problem or right every wrong.  But once in a while God uses us where we are for an important purpose.  It takes courage to answer that call; the good news is that in Jesus Christ, we are filled with the faith that it takes to live with great heart.
July 2013
Facing and Handling Grief
The Company of prophets who were in Bethel came out to Elisha and said to him, "Do you know that today the Lord will take your master (Elijah) away from you?"  Elisha said, "Yes, I know; keep silent."  II Kings 2: 3
As Elisha prepares to take up the mantle of prophetic leadership from Elijah he must face his grief at losing someone close to him.  Elijah (Yahweh is God) has been a spiritual father, mentor and colleague to Elisha (Yahweh is salvation).  As they spend a final day together, the "company of prophets" remind Elisha that this is a final day.  We can almost hear his terse response, choking back tears, "Yes, I know; keep silent."  Later, Elijah ascends into heaven with a chariot and horses of fire.
Silence is often the way we greet grief.  Logically, there isn't a lot we can say to reverse our grief over a loss.  So we say nothing; forget or ignore the thing.  I remember a 5th grade boy in a Sunday school class I once taught who started and tore up a simple, lesson-related craft four times.  On the fifth "do over" he broke into tears.  I knelt down beside "Nate" and asked why he was sad.  He shouted back in my face, "I'm NOT sad!"  My consequent follow up with his parents uncovered a very large "sadness" in the life of the family that "Nate" wasn't able to openly reflect on.  His bottled up, unacknowledged grief spilled over at an unexpected time; effected his attitude, energies and outlook on life.
When we bottle up emption or keep silent about our particular hurt, even to ourselves, we also limit our own gifts of compassion toward helping others lift their load of grief.  The primary way we help others with their grief is to listen and receive without judgment a person's reflection(s) about their loss.  Unconsciously, when we've not reflected on or admitted to ourselves that we are sad about a loss, we change our roles from care-giver to care-receiver, almost without hesitation.  The phrase, "Oh yes, I know what you mean; I remember when...." almost universally pops out.  I'm of the opinion that we can know something of another person's experience.  Regardless of our ability to know, our talking shuts down the one who was doing the sharing and shuts out the one in need.  Our need gets in the way; our responses, to be effective care-givers, should be minimal as a receiver of another person's grief.  Our unrequited emotions sometimes get in the way.   Quite naturally that which is bottled up tends, eventually, to spill out.  
What is an effective first step for us in facing grief (or any emotion that blocks our faithful living out of the good news of Jesus)?  I like to pray a prayer:  Dear Lord, I am sad today.  Please help me in my sadness!"  Another way to pray this prayer is to use the psalms which are more formalized, and equally effective language.  Take Psalm 43: 5, "Why are you cast down, O my soul, and why are you disquieted within me?  Hope in God; for I shall again praise God, my help and my God."
When we ask God about our sadness, we begin to reflect deeply and honestly on what is "going on" in our lives.  It is a time when God receives our thoughts without judgment, listens to us talk it out, as it were.  There may well be other steps involved for us in dealing with our particular sadness such as talking with a trusted friend, receiving professional counseling, seeing a physician for certain medications which can help us in a time of emotional stress.  Prayer is answering speech (as Eugene Peterson has written) to the God who is already calling our name.  Praying this prayer gets us reviewing things and joining with Jesus to seek healing for our loss.
The name Elisha means "God is salvation."  Truly, God, in Jesus Christ does save, comfort and assuage our grief.  When we open our lives to God's healing power, salvation comes to us.
June 2013
Strange as it may sound, genuine repentance seems more difficult than forgiveness.  This should not surprise anyone who has thought about the power of human sin.  We, as sinners, often refuse to admit wrongdoing or even see the guilt of our actions.  Theologically (and spiritually, I believe) repentance before other human beings as well as repentance before God is possible through the guidance of the Holy Spirit within us.  No God, no grace, no giving up of the guilt.
I was thrilled to see this spring, after years of waiting, Shakespeare's King Lear.  A King who, through vanity, asks his three daughters to tell him just how much they love him as a dad.  In return for this hyperbolic and publicly offered flattery each daughter would receive a third of Lear's kingdom, wealth and power.  He would then retire.
Goneril begins:  Sir, I love you more than words can wield the matter....
Reagan continues:  ...I profess myself an enemy to all other joys...and find I am alone felicitate in your dear Highness' love.
Lear gives them both a share of the kingdom.  Then the youngest, Cordelia, speaks:
I love your Majesty according to my bond (of love with you); no more nor less.
Dissatisfied with the concise and modest statement of love, Lear, in a fit of anger disowns Cordelia, and when his friend Kent questions the wisdom of such a rash act, banishes him upon pain of death.  The next three acts chronicle, primarily, the betrayal of Lear by Goneril and Reagan.  Lear becomes homeless and somewhat crazed by his grief, and is guided by the disguised Kent who has amazingly, maintained his loyalty to the king.  Lear and (now queen of France) Cordelia eventually meet again in Dover where her armies attempt to take back Lear's kingdom from his conniving daughters.  
Here we find the crux of the drama.  Lear has learned his lesson the hard way and confesses, near death:  You must bear with me.  Pray you now, forget and forgive:  I am old and foolish.
Cordeila has already forgiven her father.  As he confessed his sin against her saying how much cause she had to hate him, Cordelia responds:  No cause, no cause.
The two eventually die in prison.  But the Bard points out through Lear's confession and repentance, and Cordelia's forgiveness, that their lives are vindicated in their reconciliation.  Our family, and all human relationships are a miracle of grace that  depend on our willingness to speak first our fault.  That willingness is a testimony to the beauty of these two characters; a testimony to the beauty of those willing to humble themselves like King Lear and the King of Kings, Jesus Christ.
"Let the same mind be in you that was in Christ Jesus,
who, though he was in the form of God,
did not regard equality with God
as something to be exploited,
but emptied himself
taking the form of a slave,
being born in human likeness.
And being found in human form,
he humbled himself and became obedient to the point of death--
even death on a cross."
Philippians 2: 5-8
Shakespeare wasn't writing a religious story but he did give us an example in King Lear (as we also have in Jesus) of the possibility of humans doing the right thing through repentance.  With God's help through friends and family and our own renewed sight through the Holy Spirit, we can humble ourselves and find vindication.  
Perhaps that's why the role of Lear is so coveted:  because of the challenging range of emotions and situations the character faces, and because of the new life or growth the character truly realizes in his reconciliation with his daughter.  It's the only role that brings the actor to life.  In the occasional need for repentance, may you too, find new life.
June 2013
"No doubt about it!  God is good--good to good people, good to the good-hearted.  But I nearly missed it, missed seeing God's goodness.  I was looking the other way...."
Psalm 73: 1-3a, The Message
Laura, Georgia and I took a short trip to Yachats, Oregon (Ya - hots) to explore the beaches, dine on great sea food, and relax by watching the sun set as we walked the rugged, stone coast.  As we meandered among  the crags and crashing waves we saw a shiny glass and steel-frame house, built right on the shore overlooking a foamy surf.  We could see into dining and living rooms, kitchen and a TV room!  I imagined looking out from each of those rooms onto the azure sea and wondered how long it would take me each morning to sip my glass of orange juice.  We commented, pointed, joked and finally ceased our gawking and left.  I took a few steps, then lined up a final snapshot of the glass house.  
As we picked our way among the rocks, wet with spray and lichens, the silliness of it all washed over me.  Bully for those who established the home.  However, wasn't the natural setting the reason why I was there?  Why was I distracted for even  a minute by a home at the shore that can also be seen on several of Portland's mountainsides?  
I was distracted by what I didn't have, as the psalmist wrote.  I got interested in something that, ultimately, wasn't what God really wanted for me.  Dazzling though they may be, distractions from God sap our strength, not restore it.  You can tell a distraction when you cease being thankful for what you have and rather, want that which you don't have.  Elsewhere in scripture it's called chasing the wind.                                            
When we notice God's goodness, the vitality we draw is refreshing and readily apparent.  The cool of the night; the small roar of the surf; the call of the gulls and the bark of our dog in chase; dark clouds in silhouette against a red and yellow and orange and blue sun; the peace and joy that comes from listening to or seeing these things; the comfort that moves within us as we share these experiences with a spouse or family member or friend; the time and energy to take such trips:  these few examples drawn from nature's beauty are some of the ways God has used from the beginning to draw us into God's love and care.  
Look where you will, but always be on the lookout for God's presence, goodness and love.  It's the best this life offers.
So when the disciples had come together, they asked Jesus, "Lord, is this the time when you will restore the kingdom to Israel?"  He replied, "It is not for you to know the times or periods that the Father has set by his own authority.  But you will receive power when the Holy Spirit has come upon you; and you will be my witnesses in Jerusalem, in all Judea and Samaria, and to the ends of the earth."  Acts 1: 6-8
It was an exciting day.  Driving class was over and several of us were wending our way through traffic and construction to a store to pick out our uniforms.  When we walked inside we were greeted by shelves of neatly folded "sky blue" polo shirts and navy blue cargo pants, racks of midnight blue sweaters and vests, and hanger upon hanger of yellow raincoats.  All free to us (according to our budget, of course)!  I picked out a couple of polo shirts and tried on some slacks and a sweater.  Just when I was sizing a cold weather jacket I spied a rack of white polo shirts!  Thought I, "Now wouldn't one of those white shirts look and feel good on a hot summer day?  And with those khaki shorts, I'd be set!"
I sorted through the packages of white polos, found a large, put it in my small stack of clothing and marched proudly up to checkout.  I gave my ID number as the black haired woman at the desk smiled and sorted through my things.  She held up the white shirt and said matter-of-factly, "This is not for you."  Perplexed, I tried to formulate a question as to why, when a classmate leaned over my shoulder and whispered, "White shirts are for trainers and agents, you only wear the blue shirt."  I chuckled to myself as I returned the white polo, realizing (to put it mildly) my over-reach.  I had just tried to enter a club for which I wasn't even remotely qualified!  I had no idea that what I was (inadvertently) asking, by attempting to wear a white shirt, was impossible.
"...Is this the time you will restore the kingdom..."  the disciples ask Jesus?
"It is not for you to know the times or periods that the Father has set..." responds Jesus.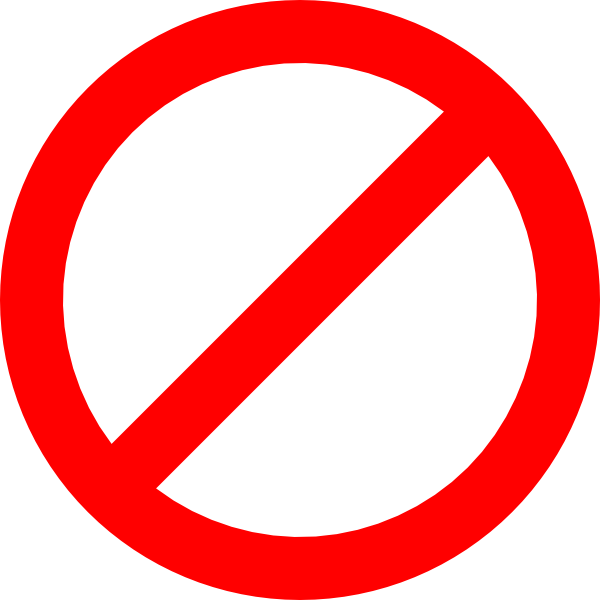 We are used to having it all; making selections; trying many options.  While Jesus is speaking specifically to the disciples' question about the end of time and God's restoration of creation, Jesus also states a general principle for his followers to live by:
Some things ARE NOT for you. Wait for what God will give to you.
It is not for you.  You have probably faced a disappointment or two, prayed for answers, worked toward solutions, investigated alternative responses. Yet the same, negative, result always came up:  You cannot have or attain or be or buy or even earn this that you desire.  God has not planned that for you.   
This view of God doesn't sit well with our have it all economic values.  A theology of "NO" is not what we believe.  Even the idol of science in which many of us trust doesn't plan for limits.  The "terrible twos" belie our condition; loving the power of "NO" but not submitting to that limit as individuals.  "It is not for you to know the times or periods that the Father has set by his own authority."  We can barely hear those words but Jesus tells them, nonetheless, to all his disciples prior to his ascending into heaven.  He speaks so that the disciples will know how to wait, and in what direction to work.  Jesus is directing the leaders of the soon to be born church toward the Holy Spirit and its guidance in praxis (living the faith).  To trust and obey that direction, the disciples (soon to be apostles - the ones who bear witness to the good news) will accept that "NO" from Jesus because a more productive, better "yes" is in store for them; for all of us.  The "YES" from the Holy Spirit took them on a mission into the world they could not have imagined prior to this exchange.  That was the plan; it was theirs to follow or ignore.
So it is for us.  God knows what is best for us, in part, because God's plan includes good for all who love and listen to God in cooperative, faithful praxis.  When we put our faith into action it will sometimes mean NOT doing something.  That may mean keeping silent; not being first in line; not presenting what you think is best.  Submitting to another's view.  In the movie "The Dark Knight Rises" Alfred, butler to Bruce Wayne, demurs to Wayne concerning his continuing to be Batman even though he is not physically able to be such.  Alfred backs up his emphatic "NO" by resigning his post immediately.  The next morning, Bruce Wayne arises and calls out to his butler who is no longer there.  We see a Wayne who is lost without his lifelong servant and confidant.  Wayne cannot understand the word Alfred has spoken to him.  
When were you told no?  When was a door closed to you that you felt like trying to open?  What were the results of accepting that NO and moving on to another goal or in another direction?
I read, once again, an article tagged "Nine Steps Toward a Longer Life!"  Some of those steps included:  get eight hours of sleep a night; worry some about things; lose weight; drink six to eight glasses of water a day; cut down or out the booze and coffee; take a multivitamin.  
Many of us have lists or know of such paths to a longer life.  I'm always struck by the lack of spiritual values on lists like these; as if life were reduced to what we eat and drink.  It's like watching a hospital show and noticing that there are almost never any chaplains; only doctors, nurses and administrators to carry the plot forward!  Sure; right! 
Consider what Jesus taught on life expectancy:
"...Can any of you by worrying add a single hour to your span of life?...Strive first for the kingdom of God and his righteousness, and all these things shall be given to you as well"  (Matthew 6: 27, 33)
Naturally eating food that is fresh and low in fat leads to an energized life.  Of course exercise or regular exertion strengthens us for the long term.  Regular rest, plenty of water, not smoking, one or no glasses of red wine a day (you make your choice, and I'm making mine:  Merlot!) can help us live longer, productive lives.  But I believe there is more.
Here is an amended list of values and practices that lead, I believe, to a longer and happier life.
Add years to your life?  Practice forgiveness.  Learning forgiveness takes a lifetime to master but some benchmarks are:  Acknowledge your hurt and (perhaps) even hate; Ask for healing; whether you can reach reconciliation or not, let the offense go - forgive - wipe the slate clean of the debt "the other" owes you.  Holding a grudge or not forgiving is responsible for many (but not all) cases of depression and anxiety.  A University of North Caroline study found that "angry people are three times more likely to have a heart attack or sudden cardiac death as those without that propensity."  Forgiving can help us resolve and release negativity, resentment and hurt which otherwise drains energy and emotional strength from us.  In his book, Forgive and Forget, Lewis Smedes writes that "when you recall those who hurt you and you feel the power to wish them well" forgiveness has begun.  Forgiveness is a voluntary act of mercy which frees us even more than the one that we forgive. 
Live productively in that meantime?  Pray for yourself and others; meditate and  listen for God.  John Wesley once wrote (and I paraphrase), "I can hardly get anything done in my day if I do not begin with at least three hours of prayer and Bible reading."  (emphasis mine)  I have found over my few years that praying for others or for myself is a practice of love that is infectious.  It is a small but real way to be involved in life that is positive and effective.  Each day I climb the stairs of my bus I thank God for the privilege of driving and for the safety of all the riders.  Further, as I interact with people I pray silently for individuals who may openly or unconsciously need the Lord's help or blessing in some way.  The woman still looking for a job who has two children to feed; the man whose mom had a heart attack; the friendly rider who is always positive; the dour rider who is always negative; the angry teen who insists on ripping up his transfer in my face once he pays for it; the other drivers I pass and greet.  Prayer is a kind of weightlifting; a Christian weightlifting that challenges and strengthens the heart just as physical weightlifting builds our bodies for the long term.  James I. McCord, former President of Princeton Theological Seminary, gave an annual lecture on prayer to incoming theological students.  He told us (back in the fall of 1977), "Don't hesitate to tell people that you are praying for them; then don't forget to do it!"  I've never forgotten that advice.
Desire more time to live?  Live thankfully and positively.  "Rejoice always....give thanks in all circumstances...."  (I Thessalonians 5: 16, 18)  It's no sin to        be disappointed when things don't go our way.  But a regular diet of "half empty", distrustful and angry outlook can be bad for your health and the health of the world.  The opposite is a rare and spiritually healthy elixir.  This morning I drove as part of a bus bridge transporting stranded train riders from the west side of town to the east side.  As the first set of riders pushed and grumbled their way onto my bus I felt their anger and worry at (the very real and inconvenient) road block of downed trains.  Nonetheless I greeted each rider pleasantly, and answered frenzied questions about routes, connections and estimated time of travel.  The last person to board was a well dressed business woman who returned my pleasantness with her own bright smile.  Not far down the road she said in the hearing of all the grumblers, "What a glorious day!  I'm so thankful we've got a way to work!"  That confident and sincere statement lifted the entire mood of the bus!  Soon riders were talking with one another in a more jocular tone; some also were helping me in a most positive and encouraging way navigate the uncertain parts of our ad hoc route.  As the woman left the bus on the east side of town she said to me:  "Thanks for a great ride!"  Of course she was probably late for work but it seemed like she would not let that unexpected disappointment ruin her or her day.  She was already taking the long view:  thanksgiving for what she had instead of grumbling about what she didn't have.
No one knows the time or the hour of our death.  When we meet Jesus he won't ask us what we earned or who we were better than or what we built or achieved.  He'll ask you and me, "What did you learn?"  I hope to say that I learned how to live the life the Creator gave me, to love and serve and laugh and cry with others, to pause in peace and rest, to run with abandon the race set before me, and to find happiness along the way.  That's what I learned.  Jesus will probably say, "Enter my realm; live long and prosper."  
What are you doing with your years these days?
Eastertide
"Remember the sabbath day, and keep it holy."  Exodus 20: 8
Everyone needs a rest and God provides one every week for us:  sabbath.  Believers differ on what day that is in the week, but agree on the need to stop work once in a while.   Our ancestors in Egypt went for four centuries without a day off.  They were made to, of course!  They were slaves to the master's work with no self-purpose allowed.
So it is today.  Regardless of what day is sabbath for you, we tend to forget our humanity (our made in the image of God purpose) and are tempted (or forced) to work around the clock.  That consequence of no sabbath, writes Eugene Peterson, is that people forget that they are "no longer considered persons but slaves.  Hands. Work units. Not persons created in the image of God but equipment for making bricks and building pyramids." 
How do we observe sabbath?  Exodus tells us we observe through remembering.  The Hebrew word means to relive something with an eye toward learning or recreating purpose.  So the commandment tells us to think over and live out the purpose of sabbath which is honoring creation and remembering God's redemptive act of resurrection through Jesus Christ.  If we stand still (actually stop work or usual activities) for a time, God also meets us where we are.
What I remember during my sabbath, in corporate worship AND away from that traditional setting is:
Reliving something of Jesus' suffering on the cross for my sins;

Giving thanks for many aspects of my life, including Jesus' forgiveness of my sins;

Praising God for all the blessings of family, friends and tender mercies I experience on a regular basis;

Being one with God in prayer:  for others' healing and help;

Giving sacrificially of my time, talent and treasure which helps me act out the good news of Jesus' resurrection in this day.
These, and much more, are part of the purpose of sabbath.  What do you remember during sabbath?  How are you recreated in the process of remembering? When and where is your observance?  And here's one for all of us believers:  How can we help others observe sabbath, stay still for awhile, who must work on Sunday and/or Saturday?  What can the church offer in terms of gatherings to facilitate that rest?  Stay tuned for more on sabbath.  In the meantime, God took a break, and so should you.
Eastertide
This past Monday afternoon I saw TV footage of the 2013 Boston Marathon and mused about my running the race ten years ago.  (What a glorious day that was in finishing at 3:59:15 and enjoying the realization of a lifetime goal!)  During that moment of reflection, I noticed on the screen two explosions, seconds apart, that turned the race from a sporting event with winners wearing laurel wreaths into a tragedy of broken bodies, blood and frantic movements to aid victims.  
Since April 15th I've noticed my sadness as well as the gloominess of those around me.  I am in no way connected to anyone involved in the race or its painful aftermath but I am nonetheless saddened by the deaths and injuries caused to innocent people by a senseless act of violence.  How do I address these feelings?  Three answers have emerged for me so far.
First, I've noticed that praying for the victims gives me some hope.  "Do not worry about anything, but in everything by prayer and supplication with thanksgiving let your requests be made known to God."  (Philippians 4: 6) Your prayer and mine is part of an ongoing conversation with God.  What we learn, what we "get off our chest", what we rejoice in, is our answering speech to God who is also speaking to us (and listening, too).  Regularly on the bus I pray for people that I sense are in need.  By virtue of that habit I am praying for the families of the 3 people killed by the blasts and the 170 (or more) people injured.  I don't know what they are "going through" but I want to bless them or encourage them in their struggles.  I am touched by the pain and courage of the victims, and believe in a God who stands with them and all of us in terrible and good times.  Your prayers and mine for those wounded at the marathon is the widening of our conversations with God, asking, yea, urging God to comfort, heal and sustain these neighbors of ours.  It is all you and I can do.  It isn't much, but I believe prayer for the victims and for all concerned in this tragedy lifts us all.  It is, at the least, in keeping with what the President expressed in his remarks to the injured at Thursday's interfaith worship service, "Everyone of us stands with you."
Second, I've noticed my need for silence on this "story."  In Revelation 8: 1 we find these words, "When the Lamb opened the seventh seal, there was silence in heaven for about half an hour."  The opening of the seven seals said everything about Jesus that could be said.  God had made God's point in this revelation.  The talking was over.  
So it is for us in this life.  Of course we should express our grief or feelings about the bombings.  Of course we should cooperate with authorities if one of us has seen or heard something.  But eventually, we do well to turn off our broadcasts and put down our papers because there is nothing new; nor will we be enhanced buy "knowing" that which is (sometimes falsely) held out as new.  In a free society like ours, there will always be a news media to speak.  You are free, in Christ, not to listen to everything that media broadcasts.  The Revelation from God about Jesus Christ ends in a silence that invites us to relax, think it over, heal.
Last, the image of an orange shirted marathoner at the time of the blasts embody the end of the matter.  Bill Iffrig, a 78-year-old runner was knocked down by the first blast.  Disoriented, he eventually got up from the pavement and stumbled on to cross the finish line.  Iffrig, in finishing the race, reminds us that even that which seems to be "a given" in life can still be a challenge to complete.  Sabotage, even 3 meters from the finish line, can knock any of us down.  Hamlet, Prince of Denmark referred to this as "the slings and arrows of outrageous fortune..."    
But Mr. Iffrig got up and finished the race!  "...Since we are surrounded by so great a cloud of witnesses, let us also lay aside every weight and the sin that clings so closely, and let us run with perseverance the race that is set before us...."  Hebrews 12: 1
Primarily, this verse suggests that in times of trouble, we look at others who might be an example to us.  As they persevere in their purpose we may learn from or be boosted by those who are enduring suffering or other difficulties in the journey of life.
These are people who usually don't "talk" about it; they simply get up and move forward again.  Martin Luther King, Jr. said famously about this attitude, "However difficult the moment; however frustrating the hour; it will not be long, because truth crushed to earth will rise again.  How long?  Not long!"  This is not a truth for us to say to one another, but it is for each of us to claim for ourselves:  Our God is marching on with us.  We are not alone.  If people can get up from the Boston Marathon, who were knocked down by the blast and lost legs or fingers or children or friends, I can also move forward in my time of trouble.  God, in Jesus Christ, will help me.
In every marathon, even though the runner has trained well for the race, there is a time when exhaustion or discomfort makes one want to quit the race.  Sometimes runners do, for good reason, quit the race (and presumably try again).  Most, though, make it to the finish line.  And that's the hope, in Jesus, we receive the strength to get up after the "thousand natural shocks" to run and not grow weary; walk and not faint.
After Easter
When I read, April 5th, about the death by suicide of Matthew Warren, son of popular pastor Rick Warren, I prayed for the Warren family and wrote a (public) note of condolence stating in part, "I'm sure your son knows complete peace in heaven."
Several days later I was flabbergasted to see several negative, written responses to my expression of sympathy to the Warren family.  One of those stated, "Don't you know that a person who has committed suicide can't go to heaven?"
I must confess that I didn't know that - literally!
I must confess that I doubt that theological assertion completely, for three reasons.
First, the Bible tells us many times that God, our Creator, is love which overcomes all forms of death, on our behalf.
It is God who remembered us in our low estate, for God's steadfast love endures forever; and rescued us from our foes, for God's steadfast love endures forever.  Psalm 136: 23-24
For I am convinced that neither death, nor life, nor angels, nor rulers, nor things present, nor things to come, nor powers, nor height, nor depth nor anything else in all creation, will be able to separate us form the love of God in Christ Jesus our Lord. Romans 8: 37-39
These references (among many others) highlight God as loving and point out God's desire for a relationship with us that is consistently merciful and affirming.  God, as we know the Creator in Jesus Christ, is a God of justice which is expressed in virtues such as mercy, forgiveness, restoration, encouragement, healing, acceptance.  I believe that God greets us in life and death, with our less than perfect record, with thoughtful and joyful welcome.
Second, God as we know God in Jesus Christ is a doubter of human theological constructs and prejudice.
...Jesus said, "Those who are well have no need of a physician but those who are sick.  Go and learn what this means, 'I desire mercy, not sacrifice.' For I have come to call not the righteous but sinners.  Matthew 9: 12-13
In the midst of the sadness and grief of a suicide we seek answers.  In that anxiety some people blame the victim of the suffering and pain and depression.  It is a sin to kill or take a human life.  Yes, thou shalt not kill is true enough.  But the complex set of circumstances that surround most suicides I've known silence our pat answers and uninformed perspectives.  As the old spiritual goes, "Nobody knows the trouble I've seen; nobody knows like Jesus."  Jesus embodies God's tendency to forgive or accept us, rather than sentence us to death.  I believe God's love covers those who have died in extremely difficult circumstances, by their own hand.   That tendency of Jesus to value people over procedure, and to love neighbors rather than laws, I believe, trumps human-made theological views.
Third, I believe that in any incident of suicide, Christians (especially) are called to offer ministry of listening, support and nurture to the surviving families and friends, not theological debate.  In painting "Shoes" in 1886, Van Gogh called us to reflect on people who work hard for a living and suffer deprivation in life.  In his ministry to coal miners and their families in the early 1880's, Van Gogh discovered his own artistic gifts BUT also lived in solidarity with the anonymous and unregarded people who supplied the "energy needs" of Europe.  Vincent shared his money and food with families who had very little to show for their dangerous work.  This picture, along with "The Potato Eaters"   (1886) express his understanding of faith which locates us not in judgment of others but in common cause with those who suffer.  The overly simple way of putting it would be to walk in someone's shoes for a day.  Matthew Warren was a stranger to me so I cannot possibly know the painful struggle  to live every day with his mental illness.  But he was God's child. For me, or anyone, to suggest "possible" answers to his problems or judge his decision to end his life of suffering is playing a role of God not meant for any of us.  The role you and I are meant for is to cover this family in prayers for comfort, and to be on the lookout for opportunities for friendship with our own neighbors who are deeply disappointed or in depression.  Van Gogh knew this call to sit with the suffering rather than judge.  I don't doubt that call is for us, from our Jesus, too.
Who goes to heaven?  Ultimately only God knows; thank God, for that!  It's not in your hands or mine to decide or judge anyone.  When someone ends their own life, it is a sad time for all of us - unspeakably sad.  Yet by our non-judgmental presence we give witness to the Jesus who calls us to be present:  in the suffering of others and in the living hope, Jesus Christ!  Our response to suicide is a renewal to the faith that you and I are not alone or separated from God's love in Jesus - ever!  We will live on in spite of the "slings and arrows of outrageous fortune" by sharing the grace known in heaven and on earth through Jesus Christ.
Easter
And very early on the first day of the week they went to the tomb when the sun had risen. And they were saying to one another, "Who will roll away the stone for us from the door of the tomb?"  Mark 16: 2-3
My daughter Gwen, as a youngster, was afraid of getting into water and learning to swim.  This is not unusual for people of all ages, and generally, is a sign of good judgment.  But given the ordinary circumstances, learning to swim and having fun in water would, ultimately, require her to plunge in.  
I encouraged my daughter by holding her in the water.  The instructor was kind as well, taking her and other class members through the steps of getting one's face wet, putting feet into the water, and jumping into the shallow end.  But Gwen would not relax and move deeper into the pool with the other children.  Gwen carried a particularly big stone of fear that blocked her progress.
A stone of similar magnitude blocked Jesus' resurrection and the discovery by the women who visited the tomb that first Easter.  Good Friday's suffering and pain had crushed the band of believers' faith in their Master.  Death, seemingly, was the end.  Try as they might to live normally by honoring Jesus at his grave, the stone blocked the way and pronounced the end of their lives that Jesus had shaped.
Today, stones of many types and sizes block us from knowing and living the joy, love and faith Jesus invites us to.  Millstones of guilt prevent some from knowing peace and having whole relationships with others.  Boulders of pain and aging block the normal coming and going of many.  Granite crags of fear prevent many from enjoying or experiencing important events.  Prejudice, ossified into rocks of mistrust, keep us from loving others or receiving another's love.  Monoliths of doubt or grief paralyze us in our attempts to climb to new levels of maturity and growth.  Who will roll away these stones that keep you and me from living as God intended—in peace?
"And looking up, the women saw that the stone had been rolled back, it was very large…"  Mark 16: 4
God rolled away the stone of death.  God showed once and for all to everyone who will look, that Jesus is raised from death.  Sin, shame, grief, fear and shadows of every kind that would separate us from God's love in Christ are crushed into rubble.  That is the good news:  The resurrection of Jesus means that nothing can block our living in Christ.  Death is defeated; eternal life is a free gift for you!  Will you accept it?
The third swimming lesson found Gwen on the deck watching the other children doing a particular exercise in the pool.  The lifeguard was a persistent mover of the rock, however.  At one point in the class, the students were allowed to splash about freely in the pool.  The lifeguard stooped and chatted with Gwen for a bit on the deck.  Then he "accidentally" lost his beach ball into the pool.  He turned to Gwen and casually asked if she wouldn't help him and retrieve it?  Gwen immediately jumped into the four foot section, grabbed the small beach ball and threw it out to the guard.  By then, two friends paddled over, hugged the girl, and the three splashed and laughed the rest of the morning in the deeper water.
Christ rolls away stones!  May you splash and laugh at their rumbling away.  Happy Easter!
Merciful God:  Thank you for defeating death and freeing us from fear as we follow Jesus into a new and eternal life of freedom, service and love undiminished by the apprehension of death and illumined by the light of Jesus Christ.  Amen.
Holy Week
Two others also, who were criminals, were led away to be put to death with Jesus.  When they came to the place that is called The Skull, they crucified Jesus there with the criminals, one on his right and one on his left.  Then Jesus said, "Father, forgive them; for they do not know what they are doing."
- Luke 23: 32-34
Good Friday and its terrible image, the cross, expose our worst and Jesus' best.  
"...Forgive them; for they do not know what they are doing," Jesus prays from the cross.  He's right.  We don't know what we are doing a lot of the time.  People walk in front of the bus and trains regularly, not realizing the death they court.  Riders swear the most filthy things in front of thirty strangers, not realizing they are degrading themselves publicly.  People waiting at stops are overly critical to their children.  Riders disregard each other with rude remarks and selfishness.  I'm amazed at the battle of indifferent wills that occurs between the "motorized" rider who runs over others' feet and the rider who won't move for one who clearly needs the space temporarily.  There are the cheaters who present forged transfers to hide their unwillingness to pay a fare.  A few others find and keep wallets or valuables left, mistakenly, by another rider, when the articles could be turned into the "lost and found." Then there are those who see these things and make judgments about them.  Now there are honest, fair, kind and cooperative riders on the bus, also.  But generally, we all have forgotten ourselves on the bus.  We forget that Jesus is looking and knows our cruelty or indifference or dishonest acts even when we are unaware.
Jesus' vantage point uniquely qualifies him to see us.   He looked down from the cross and suffered violence at the hands of military oppressors.  He noted the hypocrisy and narrowness of religious people.  He felt the pain of rejection for being different as nails tore his flesh, and his own body weight pulled his shoulders out of joint.  As Jesus' legs ached, neither able to stand or sit, he prayed first, not for the death of his tormentors, but for their forgiveness.  The cross reveals God's best, in Jesus' love, and our call to live the same, whether we know it or not  "Father forgive them...."  
Laurens van der Post, a Christian and a soldier held in a POW camp during World War II, knew first-hand Jesus' spirit of forgiveness that helped him and his fellow prisoners during their horrible captivity:
     It was amazing how often and how many of my men would confess to me, after some Japanese excess worse than usual, that for the first time in their lives they had realized the truth, and the dynamic liberating power of the first of the Crucifixion utterances: "Forgive them for they know not what they do."
     I found the moment they grasped this fundamental fact of our prison situation, forgiveness became a product not of an act of will or of personal virtue even, but an automatic and all-compelling consequence of a law of understanding:  as real and indestructible as Newton's law of gravity.  The tables of the spirit would be strangely and promptly turned and we would find ourselves without self-pity of any kind, feeling deeply sorry for the Japanese as if we were the free men and they the prisoners--men held in some profound oubliette of their own minds." (from "The Experience of Perfect Love," p. 27)
What's the good news on Good Friday?  Jesus died, doing what he believed, for a good reason.  Jesus' forgiveness redeems us.  All we need do is receive that gift.  Or, as Martin Luther King once put it, "I believe that unarmed truth and unconditional love will have the final word in reality.  This is why right, temporarily defeated, is stronger than evil triumphant."  
We all have done wrong, from time to time.  Whether we know it or not, Jesus forgives us.  Jesus asks us to forgive ourselves and one another.  Jesus invites us to practice not perfection, but doing what is right.
And when Jesus was baptized, he went up immediately from the water, and the heavens were opened and he saw the Spirit of God descending like a dove, and alighting on him; and a voice (came) from heaven, saying "This is my beloved Son, with whom I am well pleased."  Matthew 3: 16-17
A giant of a man wearing a red 49ers cap and gold T-shirt boarded the bus.  I made friends with him immediately when I remarked, "Your team is in danger of going to the Super Bowl!"  We both laughed because it was only the first week of the NFL season.  But the 49ers had handily beaten another great team, the Green Bay Packers. 49ers devotees had a lot to be happy about.  The rider fairly shouted, "I think it's an imminent danger!"  We both laughed again, and the bus moved on.
Down the road the bus filled up to capacity: no more standing room, all seats occupied!  Now the driver must do quick math - so many off equals so many on, regardless (unfortunately) of how many people may be waiting to board at a particular stop.  At a major intersection, three riders exited and six attempted to board.  Politely but firmly I stopped the last three men from boarding, quickly explaining the situation.  A woman standing near me interrupted, "It's ok, guys, c'mon, we'll make room!"  Now problems abound:  the woman rider can't actually make room 
on an already crowded bus, AND she's undermined the driver's ability to maintain safety on the bus.  The driver's decision is now up for debate.  Suddenly a voice booms out from the middle section, "Be quiet and let the man run the bus!  Let's move!"  The doors closed and away we went without incident.  The 49ers fan had my back!
God speaks to us; sometimes in unusual but nonetheless timely ways.  When Jesus was baptized by John in the river Jordan, the Holy Spirit came to Jesus and this signaled the formal beginning of Jesus' ministry.  Jesus would leave that river bank to heal, teach, forgive, feed the hungry, debate opponents, raise the dead and announce that the good news of God's hope is alive in the world.  The Creator, according to the scriptures, actually voiced an endorsement, "This is my beloved son with whom I am well pleased."  Not everyone would believe or follow Jesus.  But God would love, sustain and work through the Savior at all times, regardless.
God, our Creator, also endorses us.  Sometimes God's voice may sound out to us in the quiet times of our prayer through a word or thought.  Sometimes God's voice booms out over the crowd through someone's supportive effort or presence: "I've got your back; stand firm!"  God, naturally, is pleased with us and wants to communicate that support to us even though we are not always perfect.  Our Creator calls us to a job or mission to heal, teach, encourage, forgive, care for, grow in grace, or strengthen our hands for ministry.  There will always be voices that oppose or discourage us from that faithful living.  There will also be, however, God's voice, sometimes booming, sometimes quietly intoning our name as faithful 
daughter
 or son; endorsing us right where we are living and working and loving.  Listen for that voice. 
God is speaking to us; even by name.  Where or when have you heard God's voice?  As God's daughter or son, how can you be a cooperative part of that call, for Jesus' sake?